Simple Last Minute Christmas Fruit Cake (spelt or regular flour)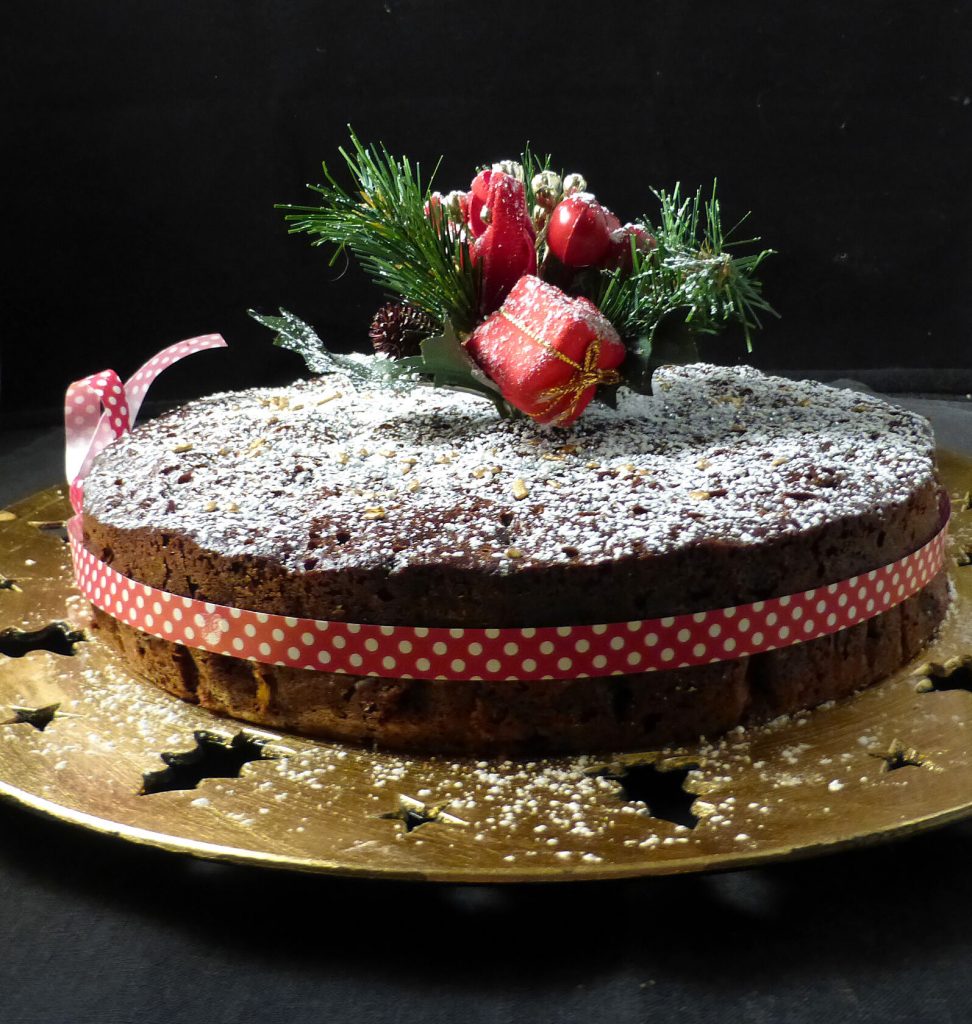 The chances are, if you've stumbled across this recipe, it's likely you've asked the Google gods, in a bit of a panic, to find you a recipe for a last minute Christmas fruit cake.
Now most of you probably already know that traditionally, a Christmas fruit cake takes time (lots of it) and dedication. But what if I tell you it doesn't have to? That you can serve up a Christmas fruit cake to your guests, one that you made less than 24 hours earlier? One that tastes just as good as any fruit cake you've left in a dark cupboard for months? One that you can adapt to suit your personal taste by adding (or omitting) nuts, alcohol or gluten and use pretty much any shape or size pan you like?
I know, right. Ticks a lot of boxes. And so it should. I present you this cake.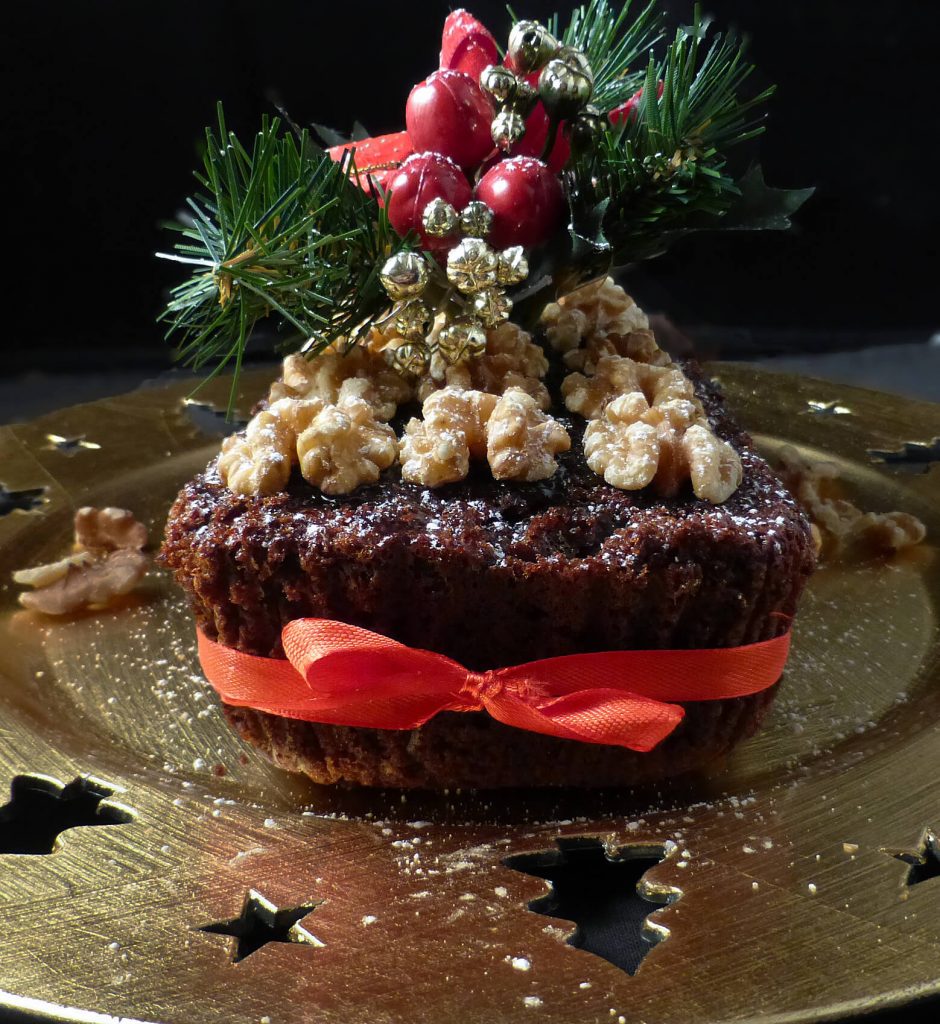 I don't even really like Christmas fruit cake (or copious amounts of dried fruit in general). But I loved this one. Seriously, I did. Glorious chunks of fruit in a dense, but still soft, cake. No longer will you need to settle for an M&S special if you've let it a little late to prepare this British festive classic.
The recipe is not mine. No way was I going to come up with a fruit cake of this magnitude in a short time. It originally comes from she who bakes amazingly well, Ms Lawson but I used this version from Bear Naked Food . It was one of the easiest recipes I've ever followed. There is also a tutorial on how to prepare your cake pan to prevent your Christmas cake from burning, and let me be frank here, the tutorial was harder for this clump to follow than the recipe itself (logical thinking is not my forte).
One of the best things about this last minute Christmas cake recipe is that it can be made with any flour you like. Even gluten free. I know, right?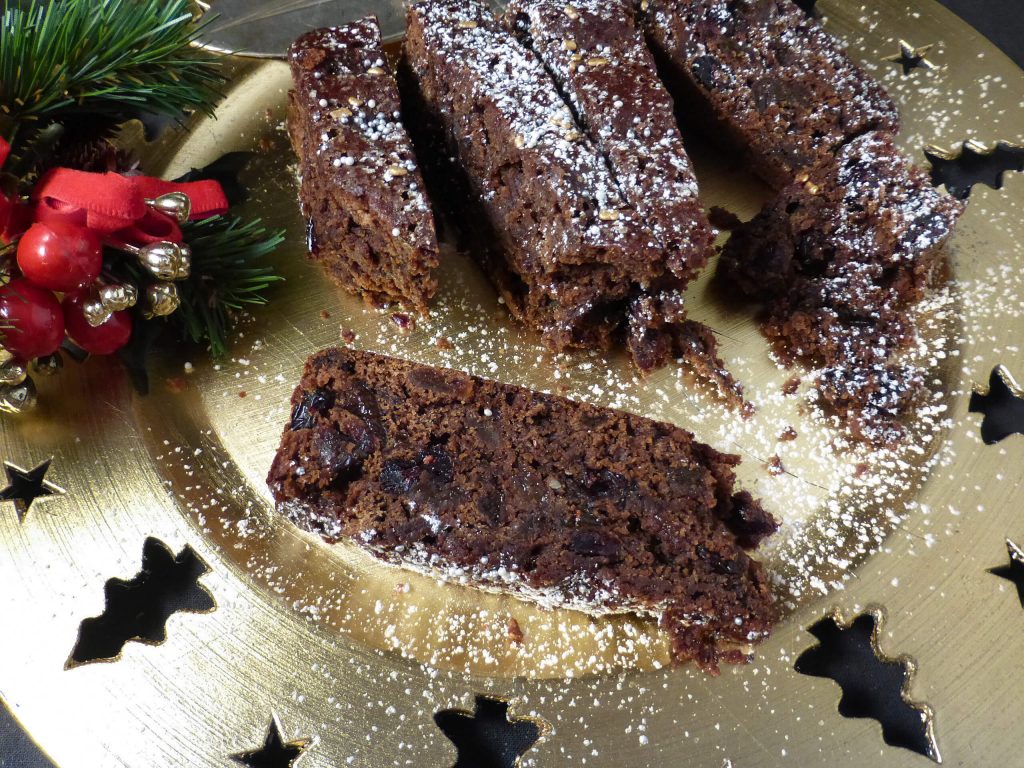 The original recipe called for an 8″ spring-form. The first one I made was bigger, coming in at around 9″ and therefore produced a thinner cake. I then made a couple for friends and family and divided the batter between two 9×5″ loaf tins, topping them off with walnuts. I also made my second batch gluten free (just do a straight 1:1 swap). The alcohol is optional, and as the original cake was for work colleagues, some who don't drink, I kept it to orange juice. Next time though, will definitely add a little spirit to see how it alters the cake.
If well covered up, the cake will last a lifetime (well, maybe not quite that long, but certainly weeks). It will be snaffled by then, though, so don't worry.
If you like the idea of using spelt flour in baking, check out my other Sweet Treats.
Simple Last Minute Christmas Fruit Cake (spelt, GF or regular flour)
Ingredients
500g

mixed fruit (I used cranberries, figs, apricots, sultanas and dates)

125ml

liquid (spirits such as rum or brandy) or fruit juice (I used orange juice)

2

oranges (both the zest and juice)

150g

honey

175g

butter

175g

muscovado (or any dark sugar)

½

teaspoon

cinnamon

¼

teaspoon

ginger

¼

teaspoon

cloves

¼

teaspoon

nutmeg

30g

cocoa

3

large eggs

225g

flour (see note 1)

½

teaspoon

baking powder

½

teaspoon

baking soda

½

teaspoon

salt
Instructions
Add all of the ingredients up to the eggs (last ingredient is the cocoa powder) in a large pan and cook for around 15 minutes until the mixture thickens. Remove from the heat and allow to cool for around 30 minutes. Pre-heat the oven to 150ºC and prepare a springform pan (see note 2).

Whisk the eggs and then add to the mixture. Combine the flour with the baking powder, soda and salt and stir in gently with a spatula. Pour into the prepared pan and bake for around 65 minutes. The cake is ready when inserted skewer comes out clean.

Leave the cake to cool completely and then wrap up in clingfilm and kitchen foil until ready to eat. Before serving, sprinkle with icing sugar and a little Christmas decoration, or wash with honey and add some walnuts or other nuts (see note 3)
Notes
The original recipe calls for 150g flour and 75g almond meal (ground almonds). However, the recipients had nut allergies, so I simply used 225g flour and omitted the almonds. For the second cakes I made, I used 150g gluten free flour and 75g ground almonds. You can also use all regular plain or spelt flour.
You can pretty much use any size pan you like. For the first cake, I used a 9" round springform but for my others, I divided the mixture between two regular loaf tin (9x5"). Please note that baking times will vary depending on thickness but aim for 60 minutes before you start checking whether it is ready.
For my loaf cakes, I topped them with a wash of honey and attached walnuts, then gave them a sprinkling of icing sugar. 
---
---