Gingerbread Chocolate Honeycomb (Cinder Toffee)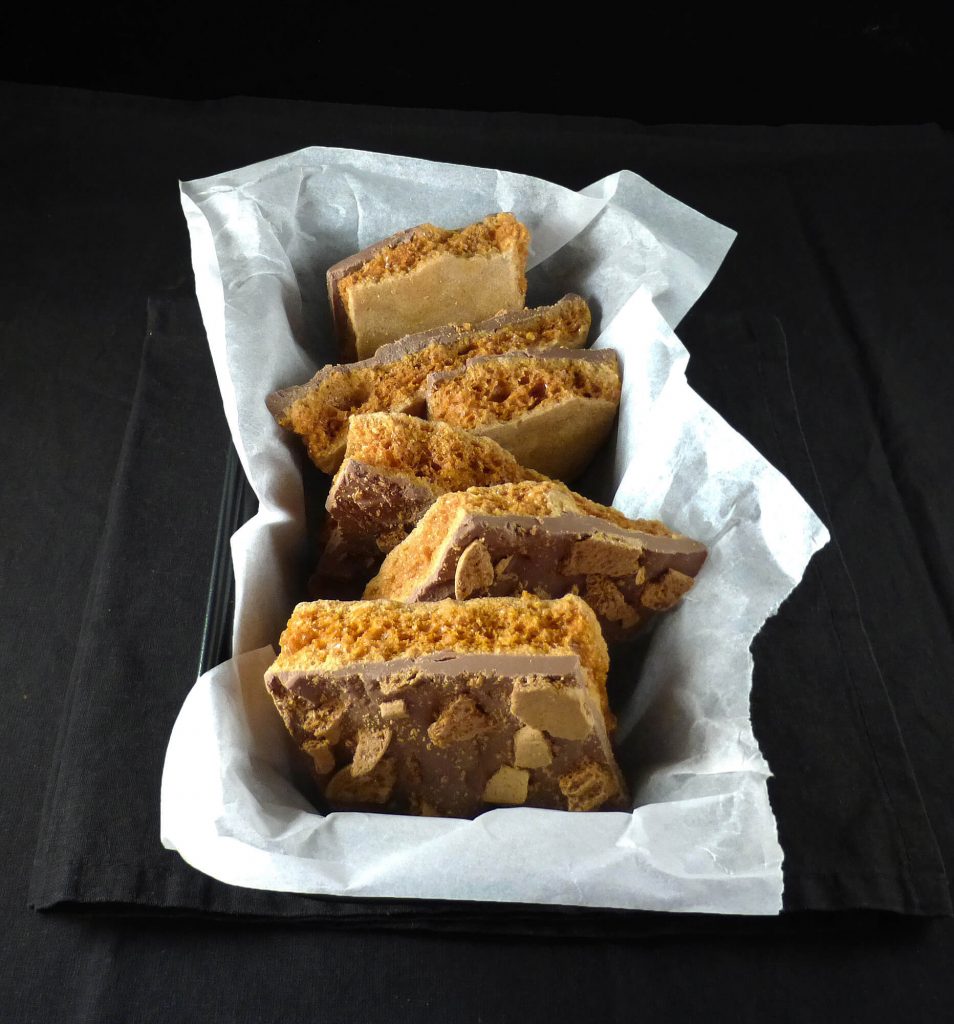 This gorgeous gingerbread chocolate honeycomb is a festive twist on the popular traditional candy
I first made cinder toffee (also known as honeycomb, angel food candy, hokey pokey or sea foam, to mention just a few) a couple of years ago. It was the first of my posts to ever go "viral" and so far, has amassed 80,000 shares over social media.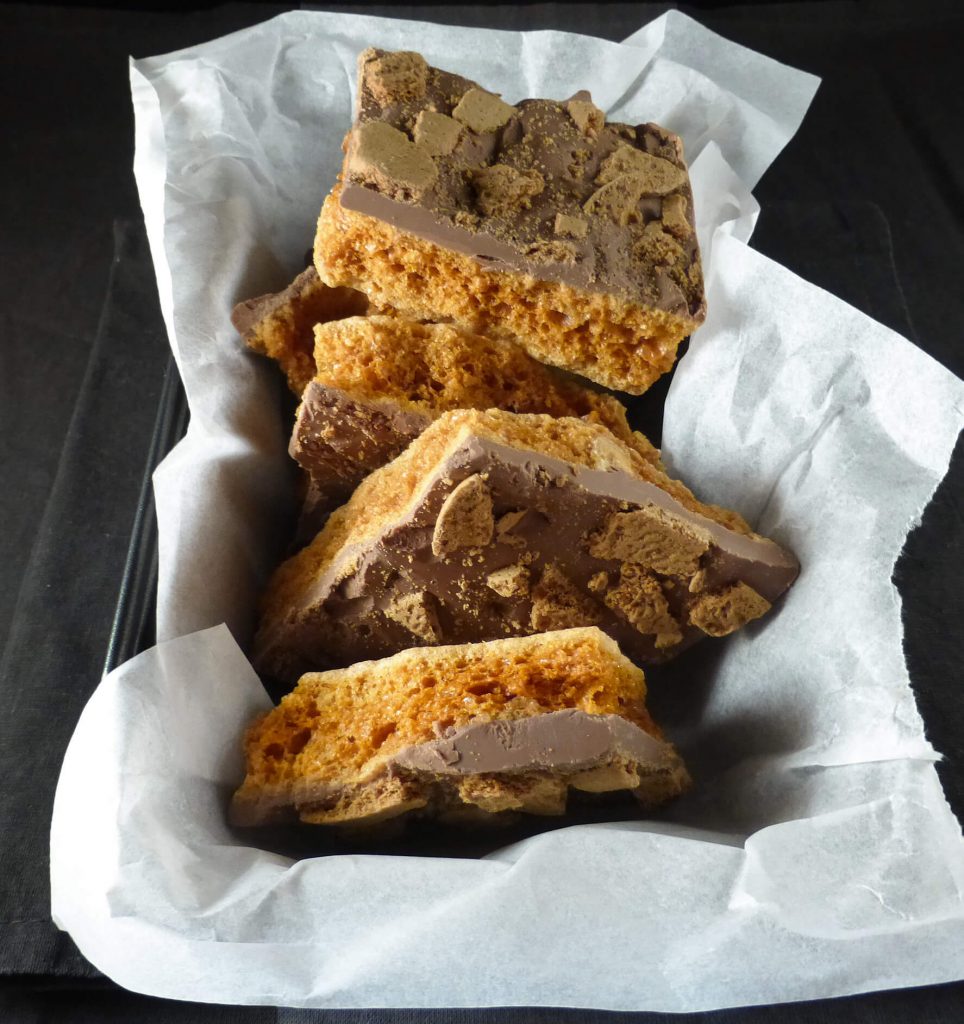 Traditionally, in the UK we eat cinder toffee around the time of Bonfire Night (5th November) but I thought it was time there was a Christmas version.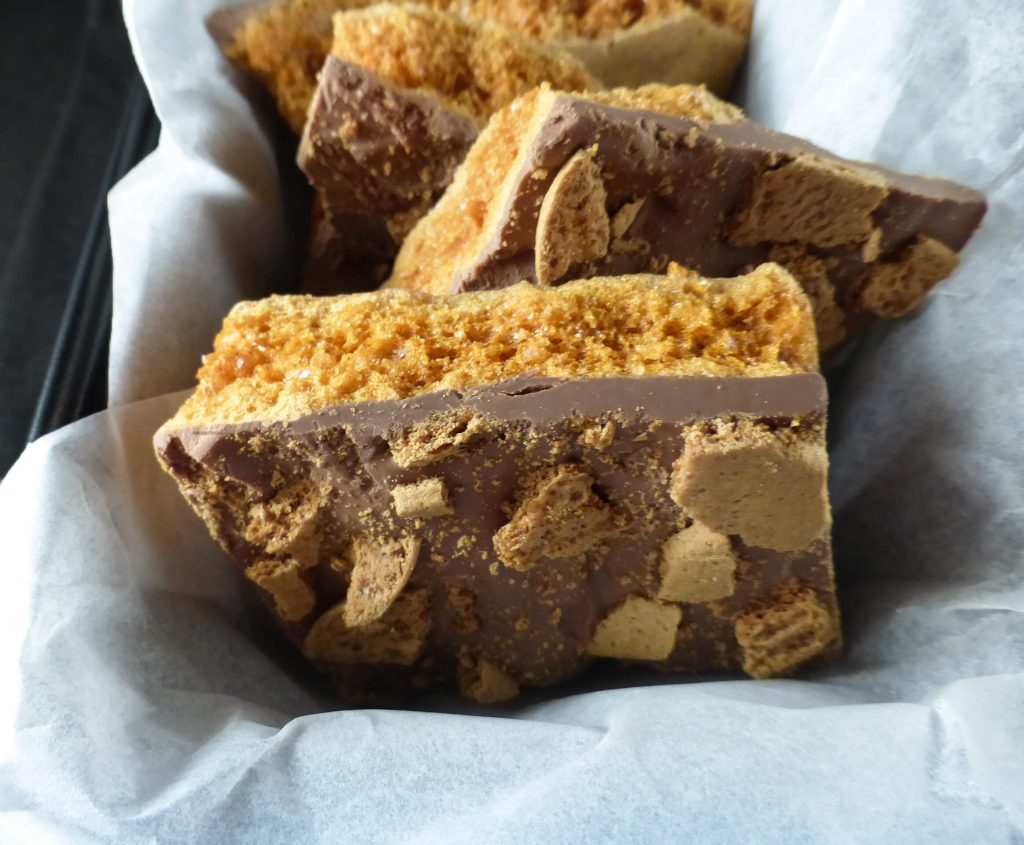 Enter my gingerbread chocolate honeycomb. Very little has been changed from my original recipe but this time I've added traditional gingerbread spices and topped the chocolate off with broken pepparkakor (gingerbread).
I wasn't sure how well the gingerbread flavours would mesh with the cinder toffee itself but it worked beautifully. There is only a mild hit from the spices that complemented the sweetness so nicely.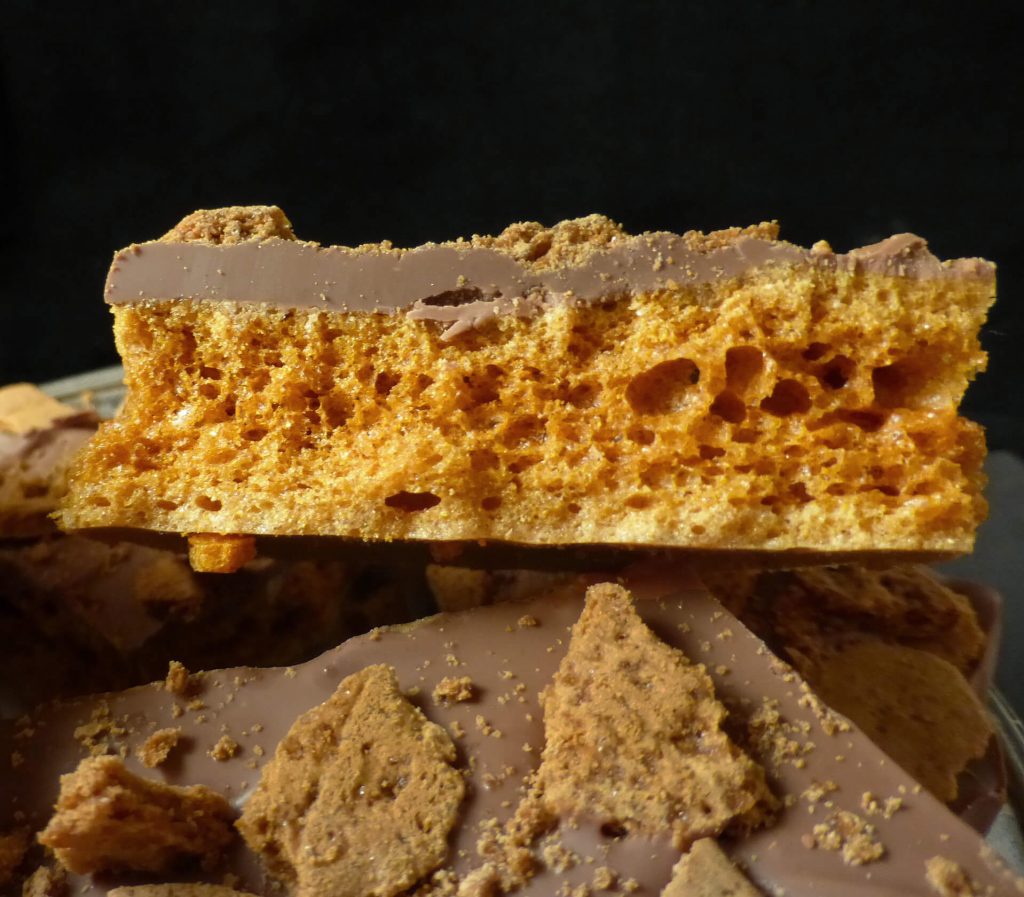 Here's how I made the regular version, which will give you an idea of the process (if you're unsure):
Gingerbread Chocolate Honeycomb (Cinder Toffee)
Ingredients
200g

white sugar

4

tablespoons

light syrup (see notes)

1

tablespoon

bicarbonate (baking soda)

1

tablespoon

gingerbread spice (see below)

100g

milk chocolate

100g

dark chocolate

Broken/crushed gingerbread
Gingerbread spice (see notes)
2

tablespoons

cinnamon

1

tablespoon

ground ginger

1

tablespoon

ground cardamom

1

tablespoon

ground cloves
Instructions
Prepare a baking pan or tray with grease-proof paper. You can use any size tin (mine is 24cm x 22cm) but make sure it is at least 5cm deep, otherwise you could experience an overflow of molten sugar! Please note: the thickness and depth of your candy will depend on the size of pan you use. A larger pan will produce a thinner cinder toffee.

In a heavy bottomed pan, add the sugar and syrup and heat on a medium temperature until the sugar starts to melt.

Stir often to make sure the mixture doesn't stick. Continue until all the sugar has melted, is a runnier consistency and it is a nice golden caramel colour. DO NOT OVERCOOK! In a matter of seconds, it can burn.

Remove from the heat and then immediately add the baking soda and gingerbread spice (see notes), beating it quickly in to the hot mixture, then pour into the prepared tin. Move fast because the sugar mixture starts to harden almost immediately.

Set to one side until it has hardened completely (about 30 minutes).

Melt the chocolate and then pour over the hardened honeycomb. Allow the chocolate to set (it doesn't need to be in the fridge unless you are in a hurry).

When ready, break into shards (don't use a knife as it will just shatter). The pictures in this post show very large pieces for photographic purposes which were broken into smaller pieces before eating.
Notes
The syrup we have in Sweden is called ljus sirap and is a dark caramel colour. It's common for people in the UK to use Lyle's Golden Syrup in honeycomb, but if that's not available, corn syrup could be substituted (I haven't use either, so can't guarantee the results if you do).
You only need one tablespoon of the gingerbread spice. The rest you can save and use for another recipe.
I use grams in my recipes as weighing ingredients is the most accurate method. However, if cups are your thing, you can use Allrecipes converter to help you out. Please note: I have not tested the measurement conversions, so I cannot guarantee they are accurate.
---
---