Saffron & Cranberry Cupcakes with Vanilla Cream Cheese Frosting (gluten free)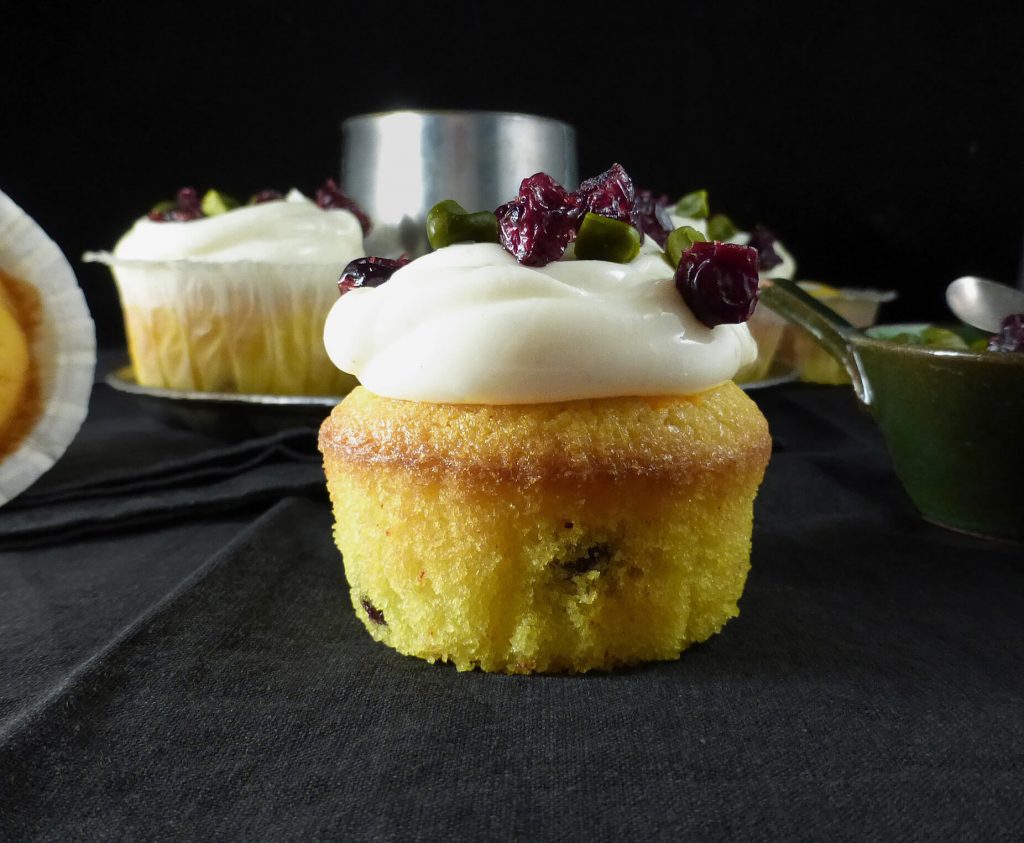 These gluten free festive saffron & cranberry cupcakes are topped with a simple vanilla cream cheese frosting.
I've focused a lot on saffron lately. As mentioned previously, saffron is a huge part of the festive season here in Sweden, beginning in November with St Lucia, when we make Lussekatter (Lucia buns).
Saffron is such an amazing, exotic spice. It still amazes me how such a cold country, with fairly neutral food, ever came across the exuberant saffron.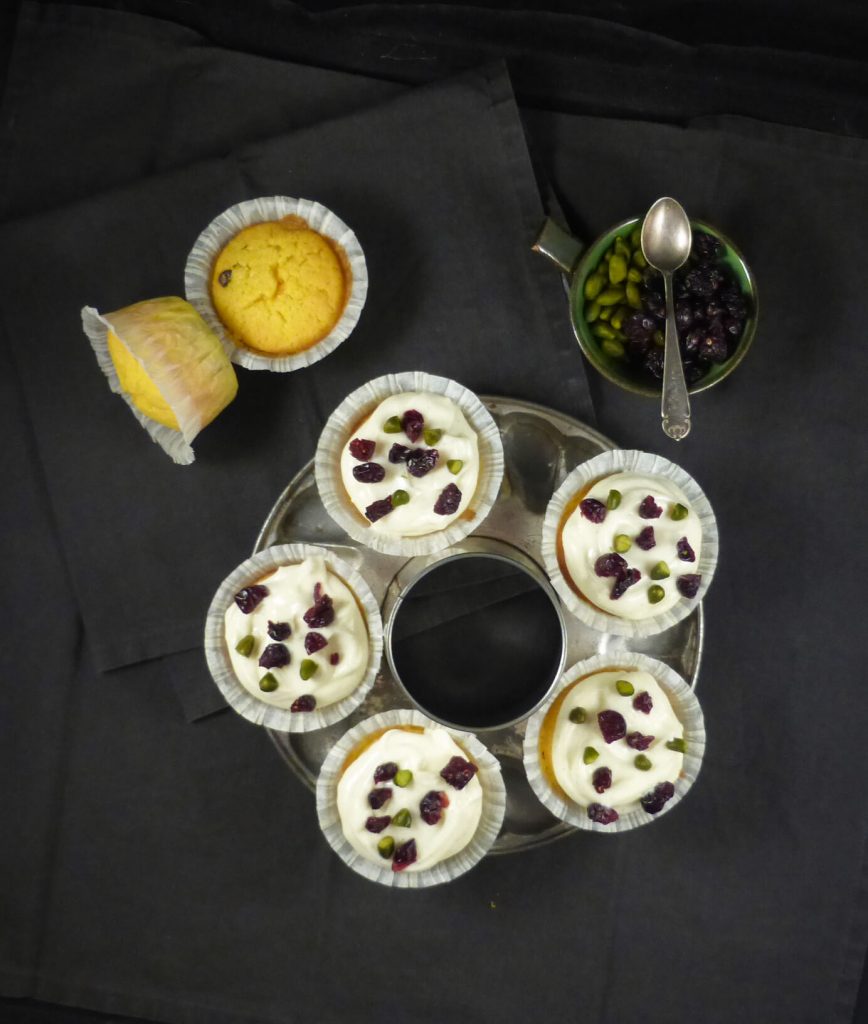 If you've never tried saffron in baked goods, its taste is hard to explain. It is gives a powerful, distinctive punch and there is nothing else quite like it. I like to use lots in my bakes, often doubling required amounts. Mind you, when I say lots, I mean ½ gram. This stuff is expensive but thankfully, small quantities are all you need.
Saffron is an ancient spice. It comes from the crocus flower and is so expensive because it only flowers in the autumn. Harvesting the strands needs to be done by hand and is therefore very labour intensive. Luckily, as I said, you only need a tiny bit for it to work its magic.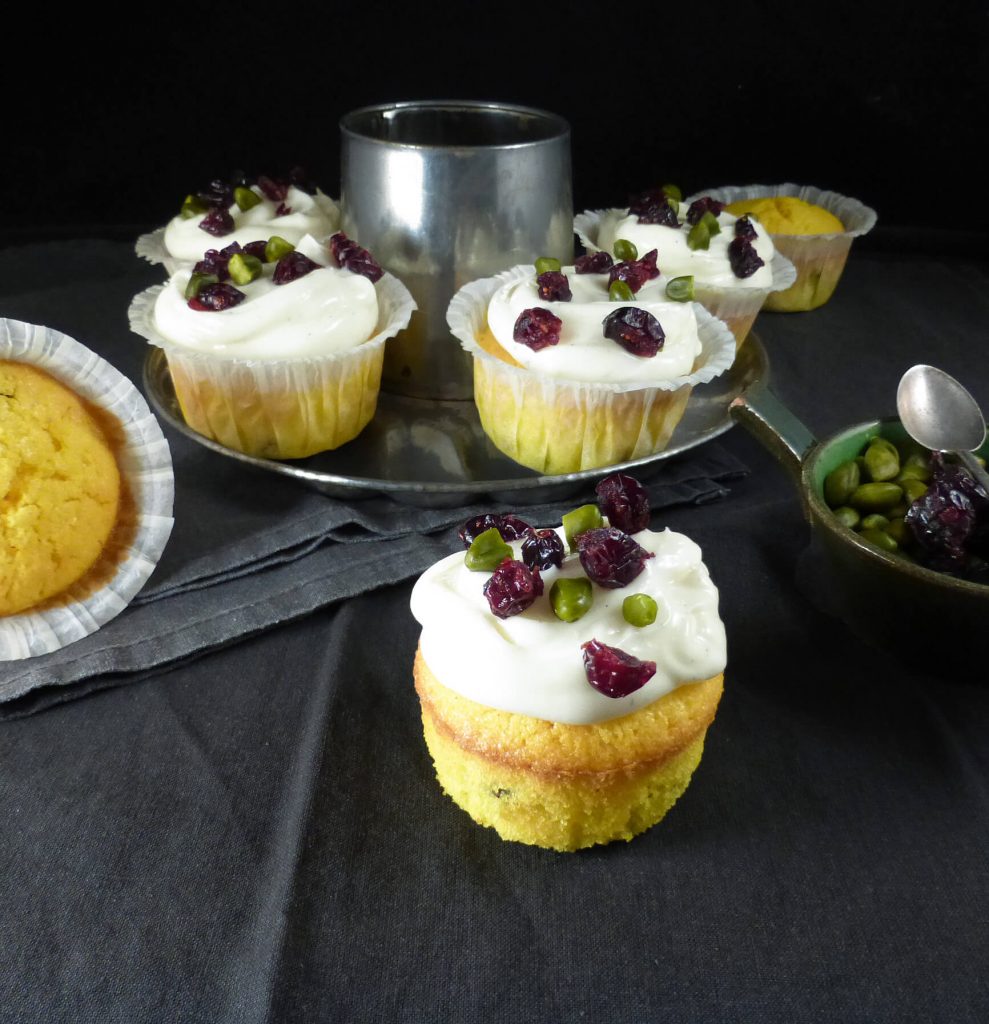 This latest gold-hued creation is saffron & cranberry cupcakes, making them ideal for the festive season. I made them gluten free, using a store-bought blend, but you could easily use regular flour instead without changing the ratio at all.
They are topped with a gorgeous, not too sweet vanilla cream cheese frosting. I don't do piping. I am a frosting dumper and runner. Feel free to add a little more finesse and pipe yours but they are so good, they don't need anything fancy. There's also a sprinkling of more dried cranberries and chunks of pistachio nuts (both of which are optional).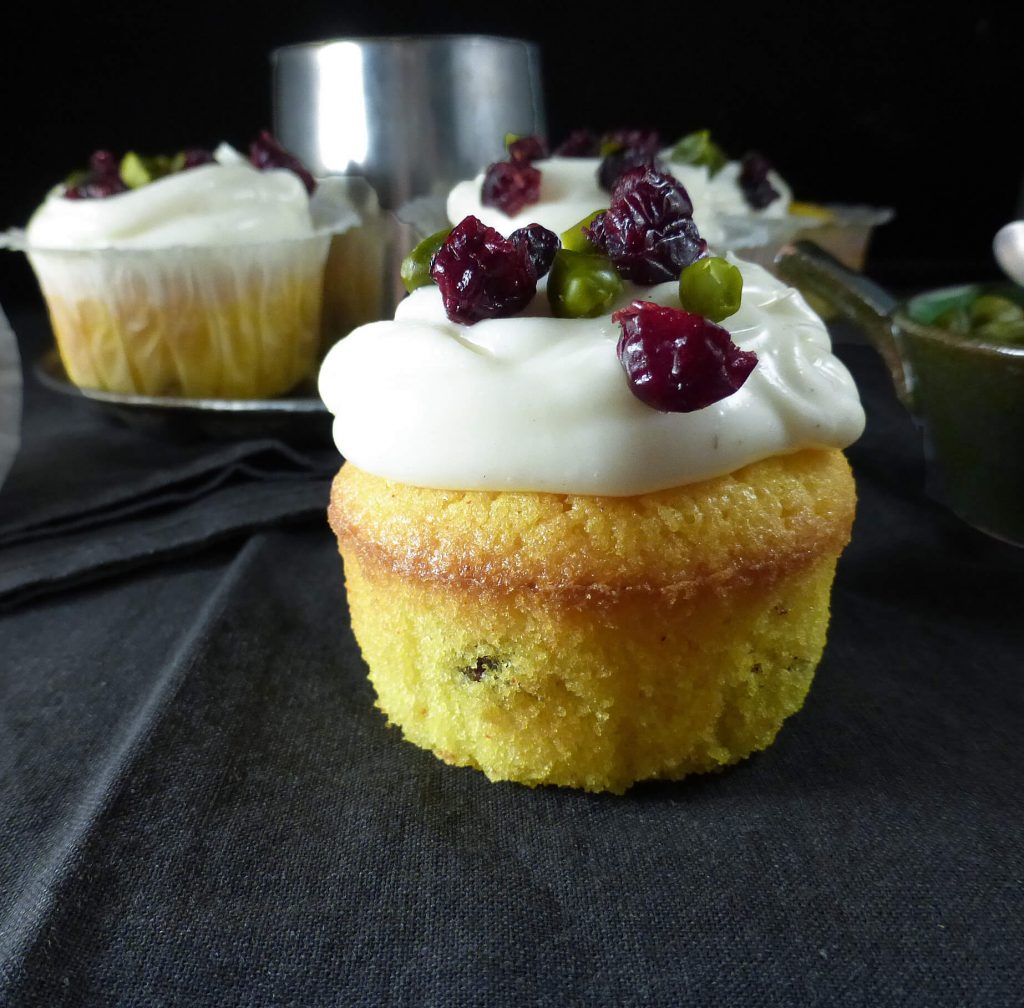 If you like saffron, check out my 16 amazing saffron recipe round-up!
Saffron and Cranberry Cupcakes
These festive gluten free saffron & cranberry cupcakes are topped with a rich vanilla cream cheese frosting and have a sprinkling of pistachios.
Ingredients
Cupcakes
½g

saffron powder

100g

butter

1

egg

80g

sugar

75ml

milk

120g

gluten free flour blend (see note 2)

1

teaspoon

baking powder

80g

dried cranberries
Frosting
200g

cream cheese

1

tablespoon

vanilla sugar

80g

icing sugar
Instructions
Pre-heat the oven to 175ºC (350ºF). Line a muffin tin with cupcake cases. Melt the butter and then stir in the saffron. Set to one side.

Whisk the egg and sugar together until nice and fluffy. Add the butter/saffron and milk and stir to combine.

In a separate bowl, combine the flour and baking powder and stir into the wet ingredients.

Lastly, stir through the cranberries until evenly dispersed. Split evenly between eight cupcakes cases and bake for around 16-18 minutes, just until an inserted skewer comes out clean. Let the cupcakes cool completely.

For the frosting: beat the cream cheese together with the vanilla sugar and icing sugar. I used less icing sugar than normal which means that the frosting is less thick. If need be, pop the frosting into the fridge for 30 minutes to harden slightly. 

Spread over the top of each cupcake (or pipe if you prefer) and sprinkle a few chopped pistachios and cranberries (optional). Enjoy!
Notes
I use grams in my recipes as weighing ingredients is the most accurate method. However, if cups are your thing, you can convert my measurements at Cook it Simply.
You can substitute spelt flour for the same amount of regular or spelt flour.
---
---