Swedish Spelt Pepparkakor (Gingerbread Cookies)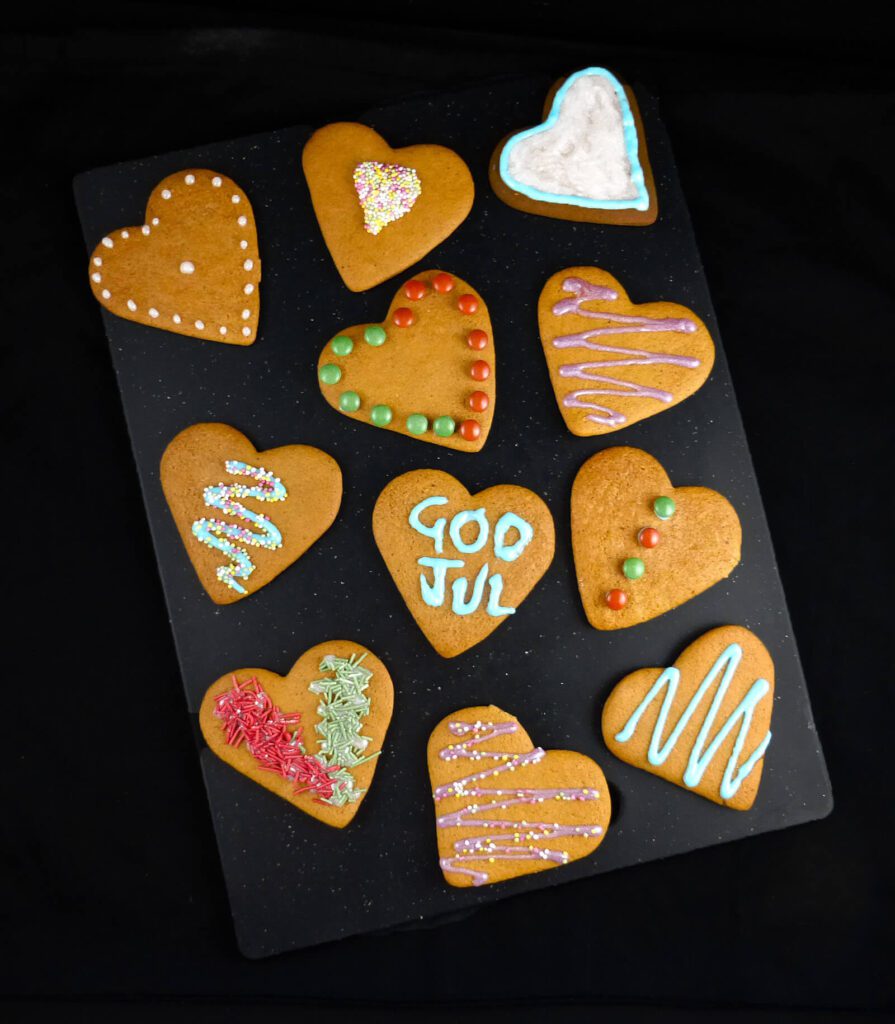 This recipe for Swedish spelt pepperkakor first appeared on my previous blog, The Culinary Jumble. The recipe has been updated to include spelt flour and add new images.
Although making pepparkakor (gingerbread) is a national institution here in Sweden, where families gather together to make and decorate the cookies in the run up to Christmas, this is only second time I've ever made them.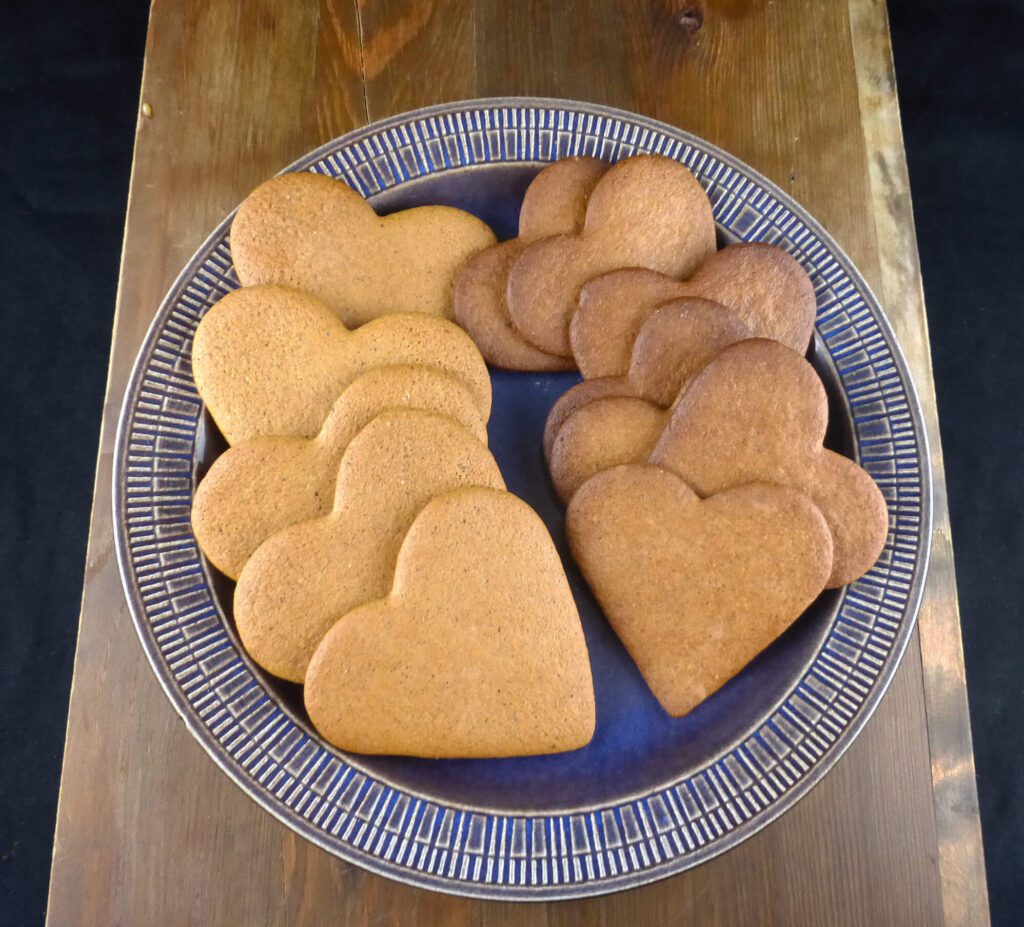 Pepparkakor are very easy to make (even with your own icing rather than shop bought), and the longest part is leaving the dough in the fridge for a day or two before rolling it out.
This time around, I used my Swedish spelt pepparkakor to make different things. I made a pretty Christmas tree with star shaped gingerbread, thin, very traditional heart-shaped pepparkakor and thicker gingerbread cookies to decorate.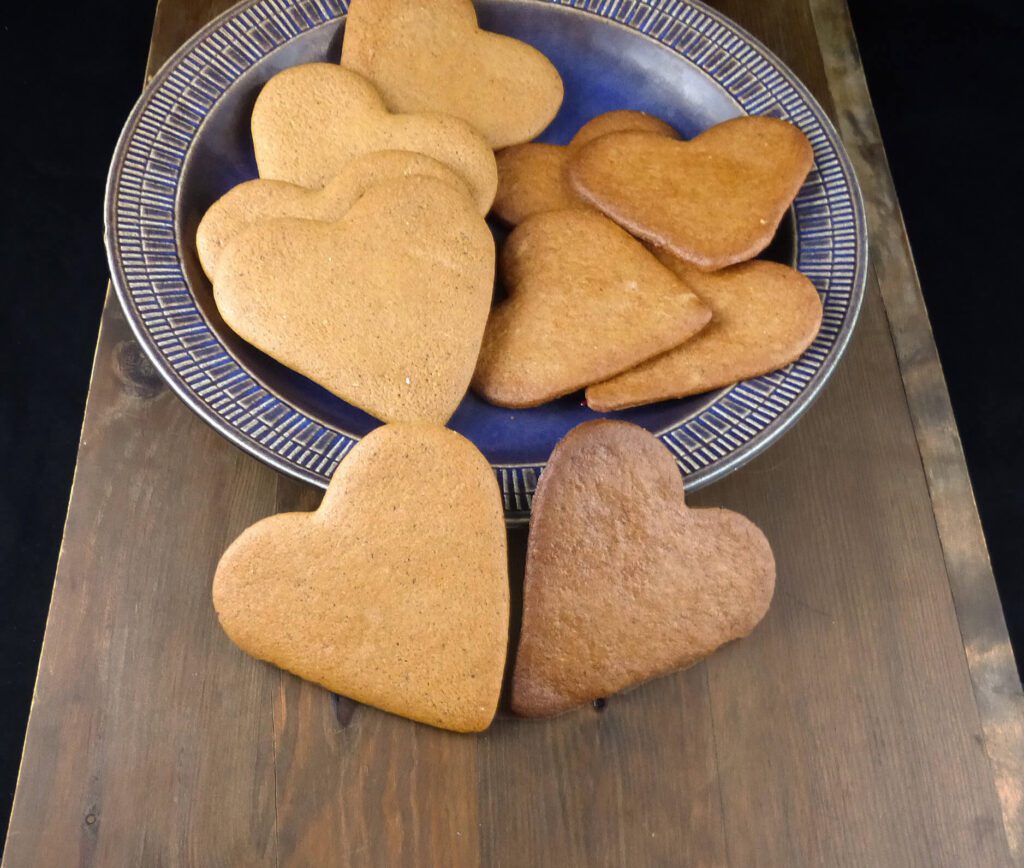 If you look at the picture above, you may think two different cutters were used. Actually not. The thickness and how long the cookies were in the oven, determine how they look after baking. I like my pepparkakor Swedish style: thin, often heart-shaped and super crunchy. However, for decorating, I opted for a thicker cookie. These were much softer, with just a hint of crispiness around the edges.
Why not make cookies of differing sizes and baking times and see which one you most prefer?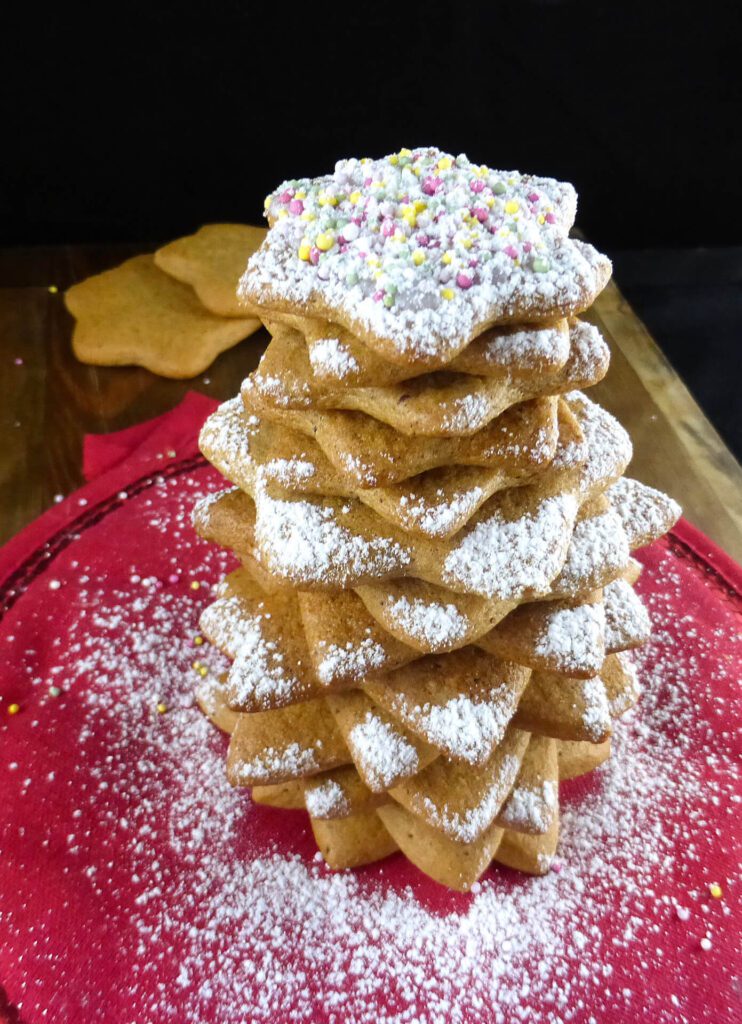 For the Christmas tree above, all you need is several star-shaped cutters of different sizes. When baked, just assemble them by stacking them up one on top of the other. It's very festive and pretty. You don't need to eat this one – it makes a great Christmas decoration.
When my kids were little, they used to love making gingerbread with their farmor (this is her recipe). They would make large hearts and ice their names on them. Some would be eaten and others would have a ribbon attached to hang them up as a decoration.
In the past, I've made my own royal icing to decorate the gingerbread with, but this time around, life is so much busier, and I couldn't be bothered. I bought my icing and decorations. It doesn't matter what you use; they look pretty and taste gorgeous, regardless.
You really can do pretty much anything with the dough. Next year, I think I might make my very own Gingerbread house. We'll see.
If you like this recipe for Swedish spelt pepparkakor, check out my other sweet treat recipes.
Swedish Spelt Pepparkakor (Gingerbread Cookies)
Prep Time
15

minutes
minutes
Fridge overnight
1

day
day
Ingredients
170g

sugar

100ml

light syrup

100ml

water

125g

butter (chopped)

1

tablespoon

cinnamon

½

tablespoon

cardamom

½

tablespoon

dried cloves

½

tablespoon

ginger

½

tablespoon

bicarbonate baking soda

425-450g

spelt flour (see notes)
Decorations
Icing (shop bought or homemade)

sprinkles (or whatever else you like)
Instructions
Basic Gingerbread Dough (for approx. 60-70 cookies):
Add the sugar, syrup and water to a pan and heat the ingredients until they start to bubble. Remove from the heat and allow to cool for a while.

Mix the spices together and along with the butter, add to the pan. Stir gently until the butter has melted.

Sift 425g of the flour and baking soda together and then add to the wet ingredients, stirring until a fairly sticky dough forms. If you need more flour, just add a little at a time (the dough firms up when chilled, so don't add too much, Although sticky, you should be able to mould it together with your hands). Form into a rough ball shape, cover with clingfilm (or place in a plastic bag) and leave in the fridge for at least 24 hours.

When you are ready to bake, pre-heat the oven to 200°C and divide the dough into three or four bits (it's easier to work with the dough in smaller quantities) and roll out on a floured surface. SEE NOTES
Christmas Tree
Roll out the dough to around ½cm thickness. You will need star cutters of various sizes (I had three different sizes). I made the big ones first (they needed more baking) and then made the smaller ones (you can combine them on one baking sheet, but you would need to watch them carefully, as the small ones will bake faster). When cooled completely, assemble the larger ones first (staggered, with the stars' points in different places), graduating to the smaller ones on top. Place a little icing or chocolate on top of each cookie to keep them in place. Sprinkle liberally with icing sugar or decorate however you prefer.
Traditional Swedish Pepparkakor
Roll out the dough as thin as you can get it (you may need to do this on grease-proof paper to get it very thin). It's important the dough is very chilled when making these, as it will easily tear when it gets thin. Use a medium heart-shaped cutter. These will bake incredibly fast, so keep an eye on them (start checking at around four minutes).
Thicker Pepparkakor
Roll the dough out to about ½cm. Use any cutter you like. Decorate your cookies however you fancy and store them in an airtight container (please note: they will get softer over time).
Notes
I use grams and millilitres in my recipes. I am not comfortable converting to cups as I believe I can't guarantee the accuracy. I would always recommend you buying some scales but if not, it is easy to convert my amounts online.
Spelt flour: with this gingerbread, like most of my recipes, you can do a straight swap with regular flour.
Baking times:

these will vary depending on size and thickness. The usual baking time is anywhere from 4-9 minutes, so you will need to keep a very close eye on them. If you prefer your gingerbread softer, bake for less time. There is about 30 seconds difference between deep golden brown, crunchy cookies, and burnt ones!
Cutters: I used the same heart-shaped cutter for both of my heart cookies. The reason why they look so different is because of their thickness and how long they were baked for.
Related
---
---