Bread Machine Spelt Garlic Butter Naan Bread (from scratch)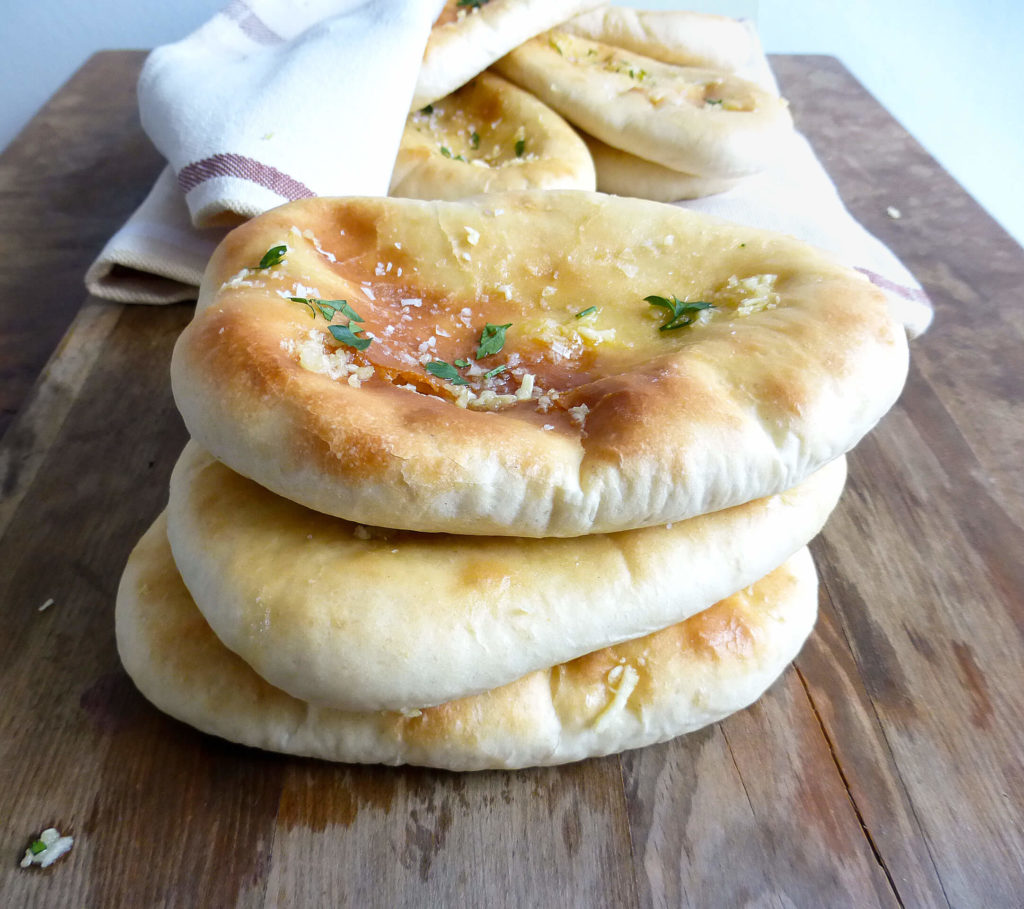 This spelt garlic butter naan bread was originally published on The Culinary Jumble.
I've talked before about how my bread making was revolutionised by a simple bread machine. Nearly a year on, I still feel just as inspired and over the moon with my purchase.
Although I do make loaves and allow the machine to bake them, I much prefer using the dough option and mould the bread into whatever shape I like. Pita bread, focaccia, mozzarella red onion bread, Belgian buns, and now this recipe for spelt garlic butter naan bread. The sky's the limit.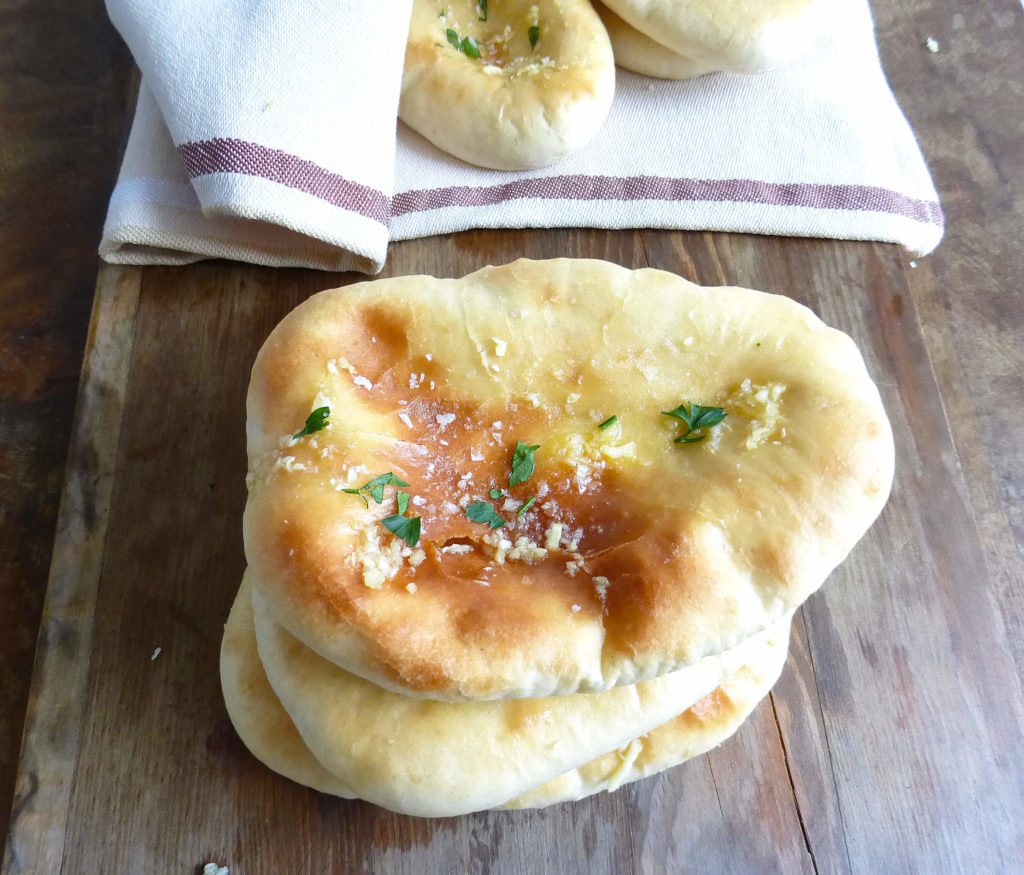 I don't change the recipe much, either. If I am making something savoury like naan bread, then I add garlic powder and herbs. If it was cinnamon buns, I would add sugar and spices.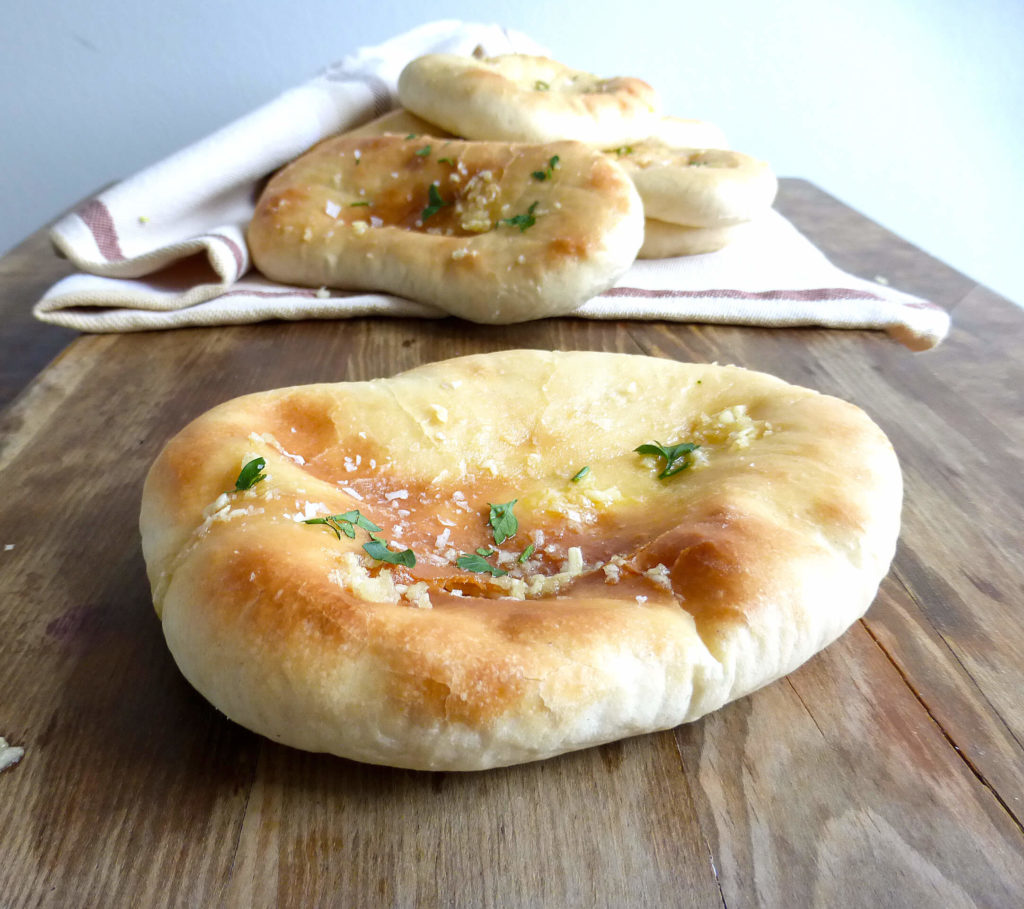 This isn't an authentic naan bread. First off, I don't have a tandoor clay oven (watch how the locals do it – my mouth was watering) so it will never taste like your favourite curry house bread. There is no yoghurt either, which is often used in traditional naan bread.
That said, it's divine. The dough is pillowy soft and the melted butter and oodles of garlic almost make it a meal in itself.
Super Soft Spelt Flour Bread Buns
This recipe for super soft spelt flour bread buns makes a fantastic side or meal in its own right. The spelt flour dough is made in a bread machine.
Ingredients
Bread
1

egg

50g

butter

250ml

milk

380g

spelt flour (see note 1)

7g

dried yeast

2

teaspoons

sea salt

1

tablespoon

sugar
Instructions
Add all the dough ingredients (wet first, then dry) to your bread machine and as per manufacturer's instructions, set the machine to make dough.

When ready, preheat the oven to 175°C and line one large baking tray (or grease an oven dish).

On a floured surface (the dough will be sticky), divide the dough into six roughly equal amounts. Take each one, roll into a ball and place on the tray or dish. If you want them to join together like mine, place them quite close to each other, but not touching. Allow for more space between them if you'd like them to be round.

Let the dough rest, covered with a tea towel, in a warm place for around 30 minutes. Although this isn't necessary as the proofing has been done in your machine, I do find a slower rise helps the bread to not blow out so dramatically. Bake for around 20 minutes if they are close together and around 12-15 minutes if they are separate bread buns.

Remove from the oven and allow to cool before dividing (you will not get round bread buns if you have allowed them to merge together).
Notes
You can use regular flour for this recipe, too. Use 400g rather than the specified 380g.
This recipe has been devised for a bread machine. You could make the dough by hand although results cannot be guaranteed.
I use grams in my recipes as weighing ingredients is the most accurate method. However, if cups are your thing, you can convert my measurements at Cook it Simply.
---
---