Honeycomb & White Chocolate No-Bake Cheesecake
This honeycomb & white chocolate no-bake cheesecake came about as a result of needing to use up a surplus supply of homemade cinder toffee (honeycomb). My recipe for honeycomb is my most popular recipe on the blog, and I had the brainwave to recreate the recipe in a video:
It's such a simple recipe, so I just knew it would be very easy to get the recipe on film and show everyone else what a cinch it is. Ah, yes. My confidence knows no bounds. Four tries it took to get it right. Four. The first one burned, the second overflowed the container, and I messed up the third one during recording. So now you might understand why I had a little extra honeycomb going spare!
All's well that ends well, because it gave me the inspiration to make this honeycomb & white chocolate no-bake cheesecake. The honeycomb is in every inch of it: the Hobnob base, the white chocolate cheesecake filling, and all over the top. I have to say, honeycomb that has dissolved in a cheesecake is beyond divine, giving it a mix between a caramel and toffee taste.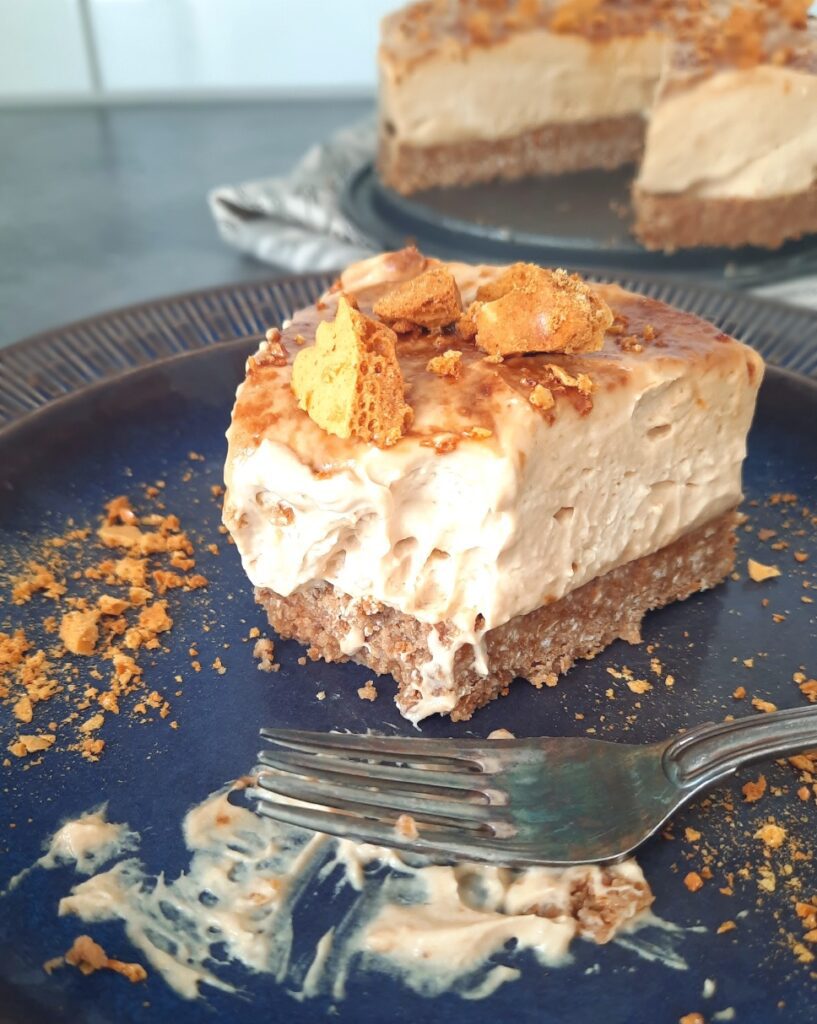 No-bake cheesecakes are a creamy, soft version of cheesecake. They need quite a substantial amount of time in the fridge to set (this one was left overnight). They also need something in them that will allow the filling to firm up nicely: this cheesecake has a touch of white chocolate and whipped cream.
This honeycomb & white chocolate cheesecake will cut into around 8-10 slices, and will last several days in the fridge.
Honeycomb & White Chocolate No-Bake Cheesecake
Ingredients
Crust / Base (see note 1)
200g

Hobnobs (or any other oat cookies)

30g

honeycomb (ground into powder) - see note 2

120g

butter (melted)
Filling
75g

white chocolate

200g

Philadelphia

250dl

whipped cream

50g

honeycomb (ground into powder) - see note 2
Instructions
Base
Crush the cookies until they are crumbs.

Crush the honeycomb into a fine powder and combine with the cookie crumbs.

Melt the butter and stir into the dry ingredients. Push down into a small springform pan (mine is 6" / 18cm) and place in the fridge.
Filling
Melt the white chocolate and beat into the Philadelphia.

Add the powdered honeycomb.

In a separate bowl, whisk the cream until it is very firm. Fold into the other ingredients.

Pour over the base and with your fingers, crush up most of the honeycomb and sprinkle over the top (this will dissolve while it is setting, but it gives it an amazing toffee flavor.

When ready to serve, crush the remaining honeycomb over the top to make it look pretty. Slice and serve. Enjoy!
Notes
I wanted a chunky base, but of you would prefer a thinner base, just use half of my ingredients instead.
If you don't have homemade honeycomb, use Crunchie bars instead.
---
---