Banana Bread with Cream Cheese and Maple Syrup Frosting (low fat and no refined sugar)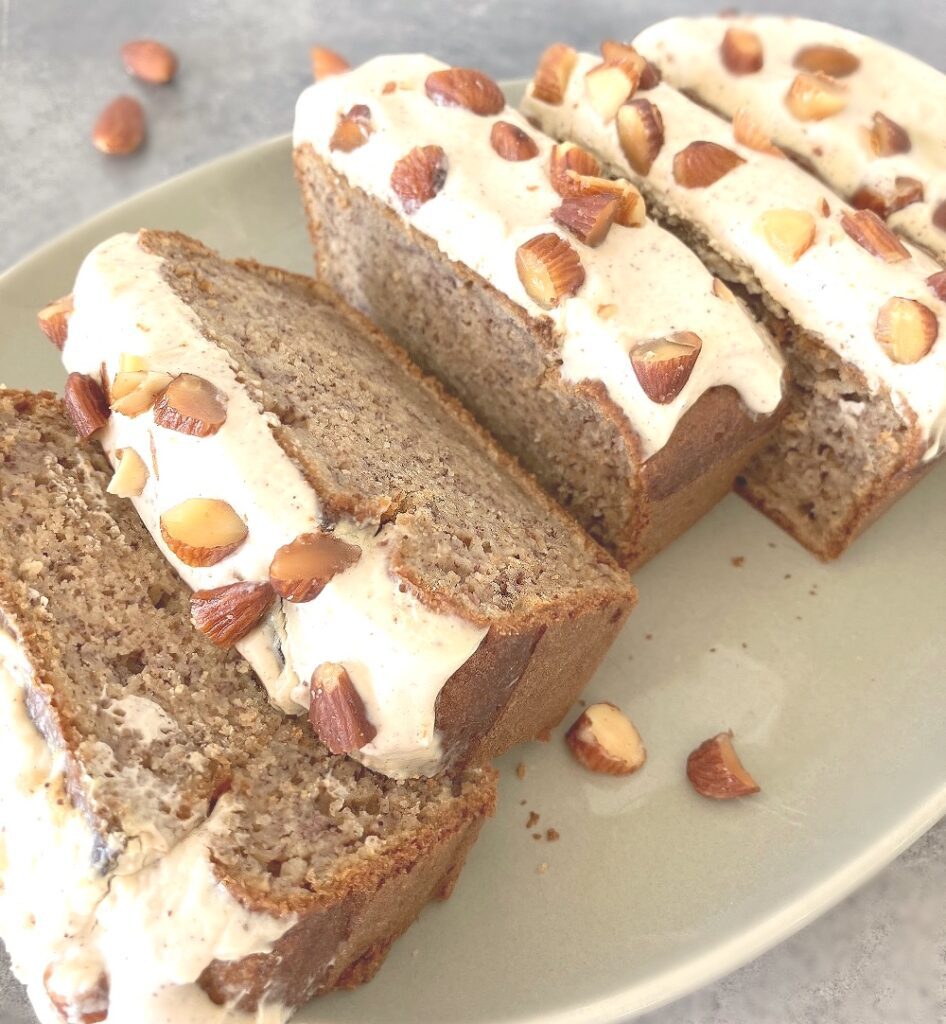 This simple and easy to make banana bread with cream cheese and maple syrup frosting has just a touch of oil and no refined sugar. The sweetness comes from the over-ripe bananas and a smidge of maple syrup. The same goes for the decadent looking frosting: the sweetness is from maple syrup and not refined sugar.
If you're a regular reader, you may have noticed that the type of recipes I make depend on where I am health wise. There will be batches of deliriously decadent desserts, like butterscotch layer cake, honeycomb and white chocolate cheesecake, and my favorite, Swedish Nutella kladdkaka. Then, there are periods (like now) when I am eating healthier, and look to cut some of the fat and refined sugar.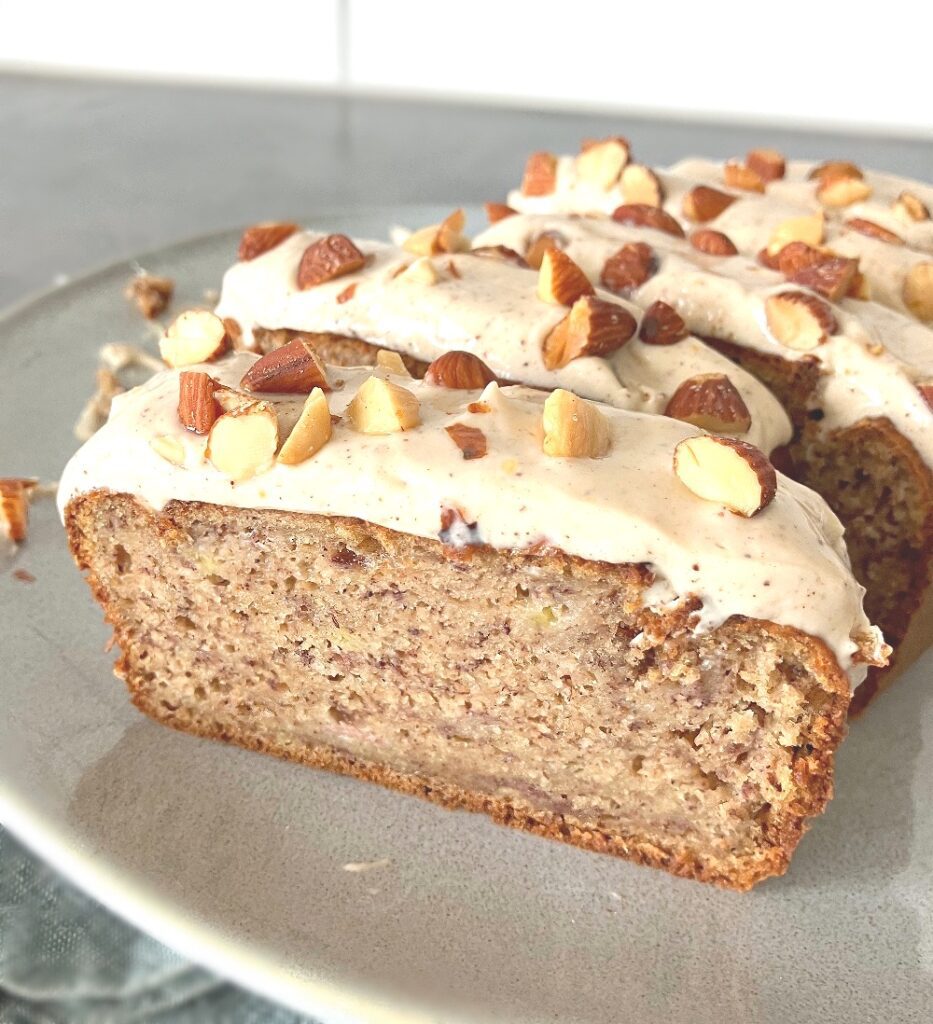 What I love most about this recipe is its adaptability. I have used spelt flour, but you could use regular flour if you prefer. I've added ground almonds, but you can omit them and use all spelt/regular flour. I used almond milk, but any kind of milk will work just as well. Not only is it a simple cake to make, you can just tweak it to suit your preferences.
This banana bread with cream cheese and maple syrup frosting is fairly dense but very moist. The banana is noticeable but not overpowering, and the level of sweetness is perfect. The cake gives around 8-10 slices (I sliced on the heavy side, but you could make your slices thinner).
Banana Bread with Cream Cheese and Maple Syrup Frosting
Ingredients
Cake:
2

medium sized very ripe bananas

(mine weighed 235g peeled)

50ml

vegetable oil

2

tablespoons

maple syrup

2

small eggs

(mine weighed 114g in their shells)

1

teaspoon

vanilla extract

100ml

almond milk (see notes)

50g

ground almonds (see notes)

100g

spelt flour (see notes)

1

teaspoon

baking powder

½

teaspoon

baking soda

¼

teaspoon

salt

2

teaspoons

ground cinnamon

¼

teaspoon

nutmeg
Frosting
100g

cream cheese

3

tablespoons

maple syrup

1

teaspoon

cinnamon

almonds (to sprinkle) - optional
Instructions
Cake:
Pre-heat the oven to 175°C.

Grease and line a loaf pan (mine is 26cm x 13cm).

In a large bowl, mash the bananas well.

Add the oil, maple syrup, eggs, vanilla and milk, and whisk to combine.

Sift together the flour, baking powder, baking soda, salt, nutmeg and cinnamon then whisk just until everything comes together.

Pour into the pan and bake for around 45-50 minutes until and inserted skewer comes out clean.

Remove from the oven and allow to cool completely.
Frosting:
Whisk or mix the three ingredients together until nice and smooth. If you prefer it a little sweeter, just add more maple syrup.

Spread the frosting over the cake and sprinkle with some roasted almonds. Slice and enjoy!
Notes
If you would like to use regular flour, just do a straight swap with the spelt flour.
You can omit the almond flour and just use regular/spelt flour. 
You can use any milk you like with a straight swap.
---
---