Caramel Shortbread Chocolate Bark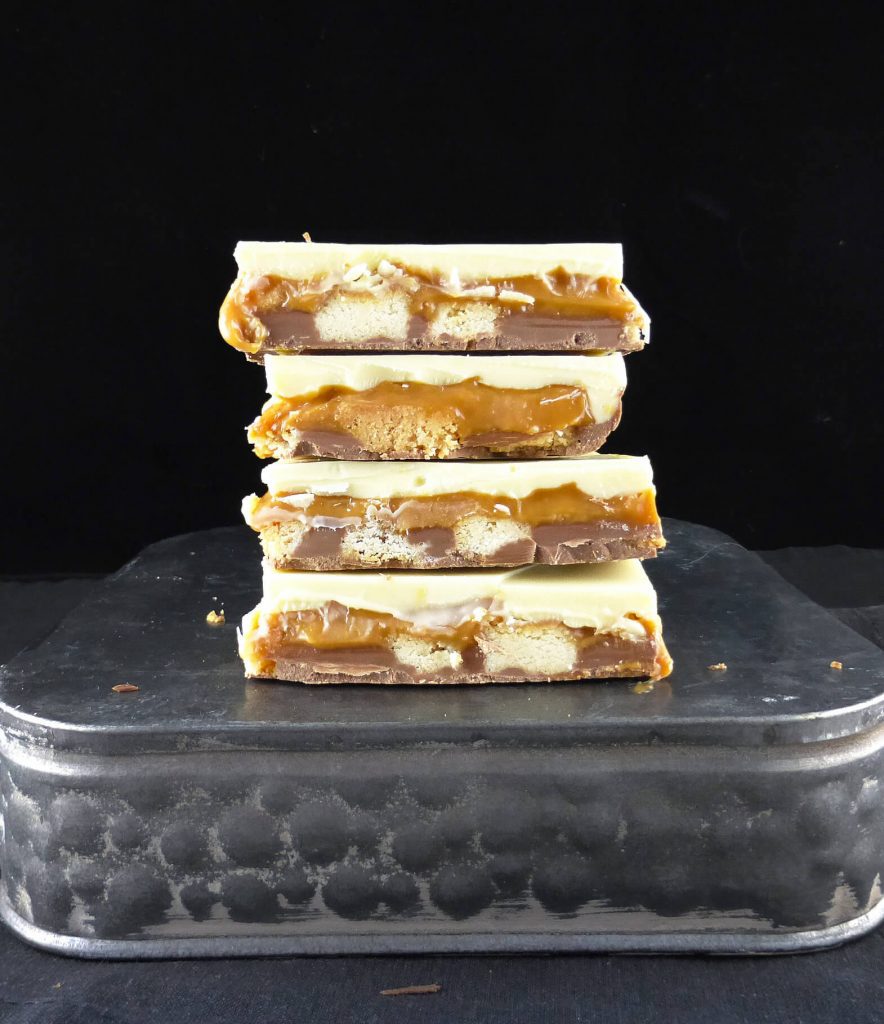 On the scale of candy bark, this caramel shortbread chocolate bark is queen. It's so lavish that really, it shouldn't be a bark. Bark is usually about simplicity: melt a bit of chocolate, sprinkle something over, let set, snap and enjoy.
There is no snapping this beauty. It needs a full on slice. But it is still bark. It has melted chocolate and things sprinkled over.
Regular readers will know that The Spelt Kitchen is a new venture for me and this caramel shortbread chocolate bark recipe is an old one from The Culinary Jumble. It's been shared over 40 thousand times. Incredible, huh?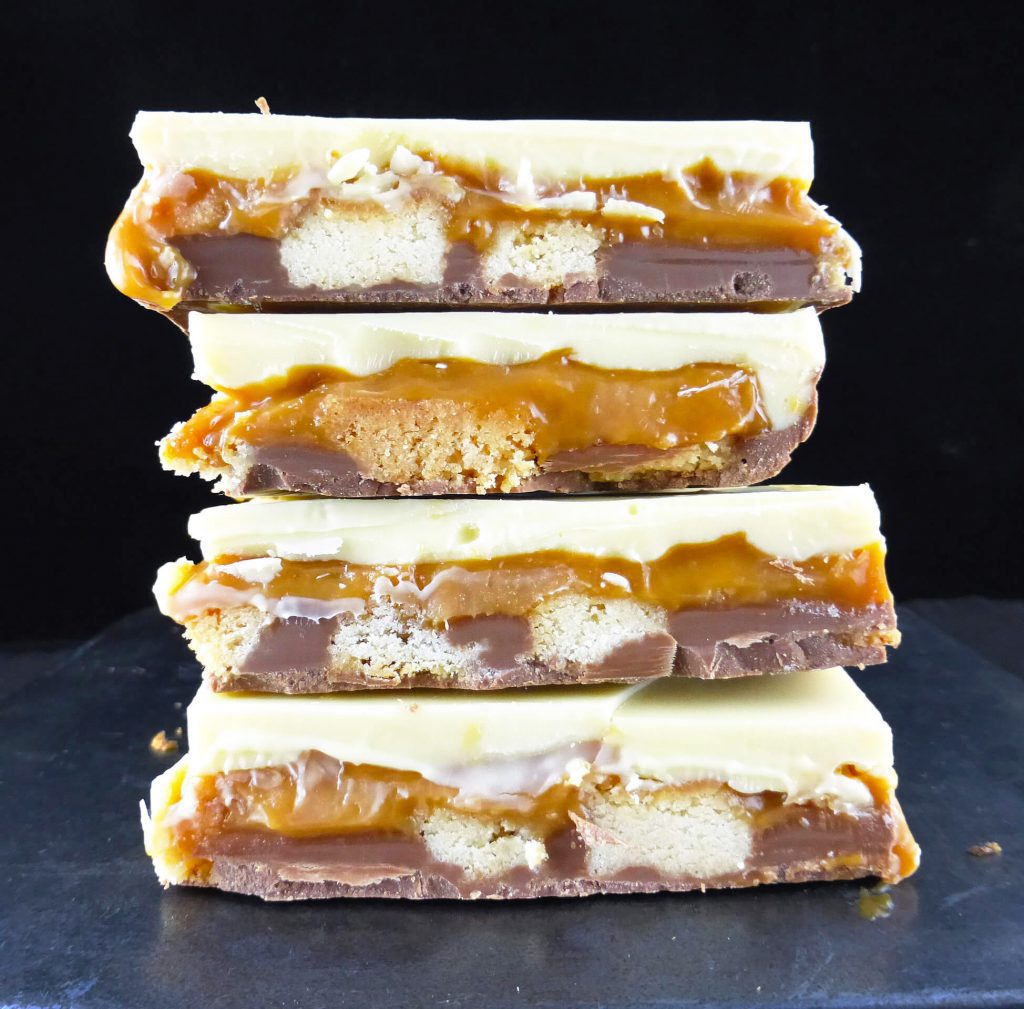 The recipe needed no changing. Believe me. However, the food shots left a lot to be desired. I specifically created my traditional spelt shortbread so that it could be used in this caramel shortbread chocolate bark.
The original recipe came from one of my favourite Instagram foodies, Kim at Sweet on Treats (she doesn't have a blog but if you are on Instagram, check out her amazing recipes). I followed Kim's idea and then threw in some leftover caramel I needed to use up. The great thing about bark is its adaptability: you don't have caramel? Omit it. Don't like white chocolate? Use dark. Just mix it up to fit your own personal preferences.
Caramel Shortbread Chocolate Bark
This caramel shortbread chocolate bark recipe is a simple no bake candy with gooey caramel, rich spelt shortbread and both white and milk chocolate.

Ingredients
200g

milk chocolate

250g

white chocolate

200g

caramel/dulce de leche

3-4

shortbread (see notes)
Instructions
Melt the milk chocolate in a Bain Marie (double boiler).

Line a square or rectangular tin (mine is 8"x 8") with baking paper or foil. Pour the melted chocolate in and gently tilt so that the chocolate evenly coats the whole tin.

Break up the shortbread into fairly big pieces and sprinkle evenly over, pushing down a little so that they are half submerged in the chocolate. Place in the fridge to set.

Dollop the caramel over the hardened chocolate and shortbread and using a knife, gently spread it all over.

Heat the white chocolate then pour over the top, using a knife to gently spread it all over, making sure you evenly coat the other ingredients. There should be enough chocolate to complete cover everything. Allow to set completely. PLEASE NOTE: do not put it in the fridge as the chocolate will splinter when you cut it.

When ready, take a sharp knife that has been held under a hot tap. Place the knife where you want to cut the bark and let it slide through rather than cutting it. You will have a little resistance when you reach the shortbread. Some of the white chocolate will crack but this often unpreventable. I cut mine into 9 squares (but they were big) so 12 would work just as well. Enjoy!
Notes
I used my own shortbread in the recipe. However, you can use any kind of cookie you like.
I use grams in my recipes as weighing ingredients is the most accurate method.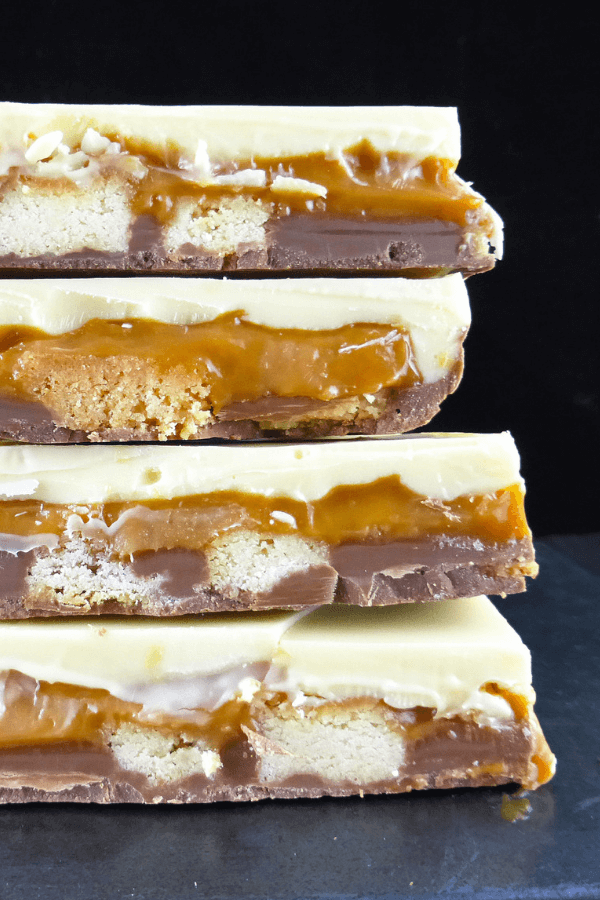 ---
---