White Chocolate and Lemon Kladdkaka with Blueberries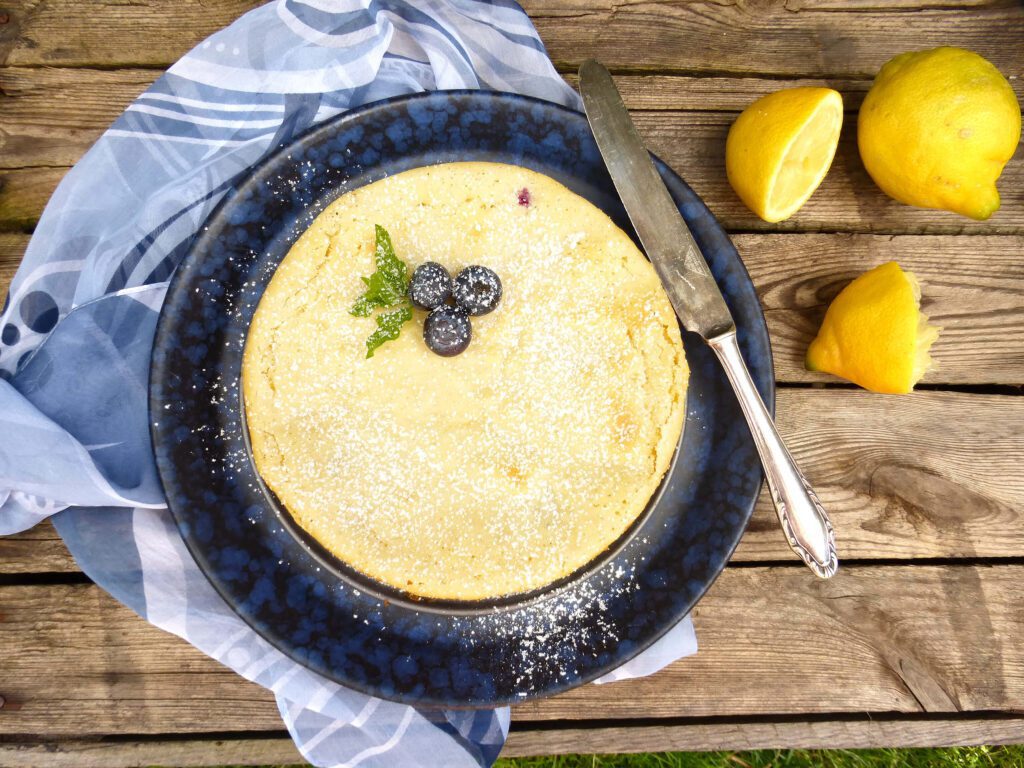 This recipe for white chocolate and lemon kladdkaka first appeared on The Culinary Jumble. The recipe has been updated to include spelt flour and include new images.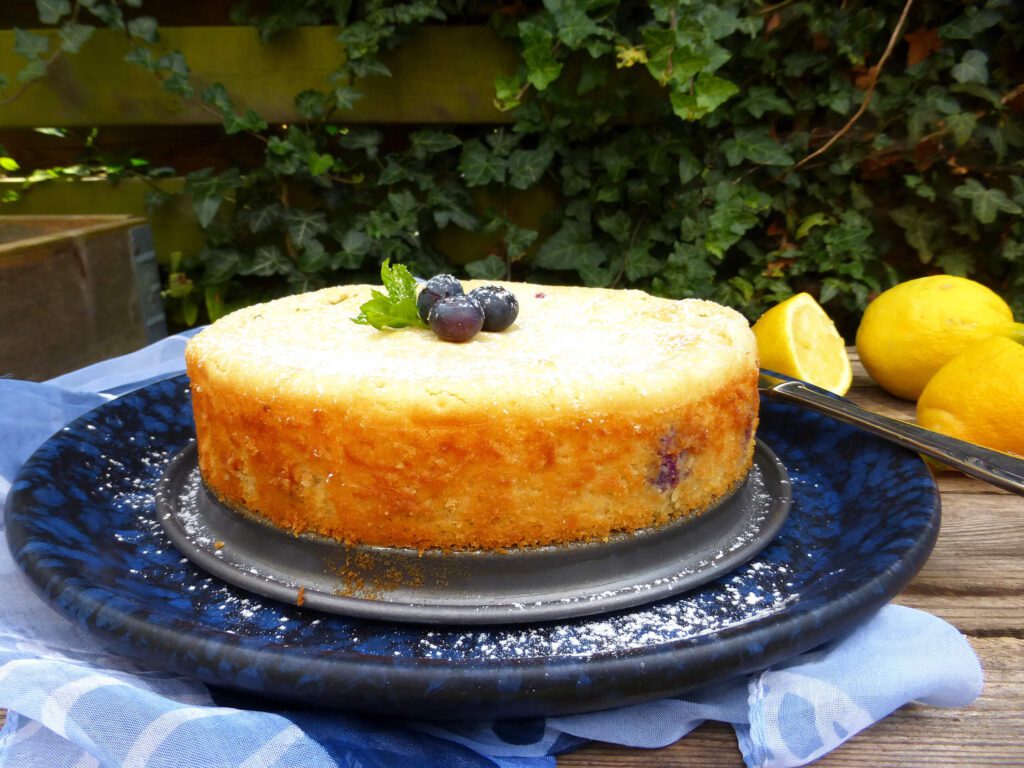 For regular readers, it will come as no surprise to hear how much I love kladdkaka. It's Sweden's easiest (and most delicious) cake, no doubt. The fact that the cake doesn't need to rise means that even the most insecure and inexperienced of bakers will not fail. Ever. I like them so much, I even made one for my Baking with Spelt e-book: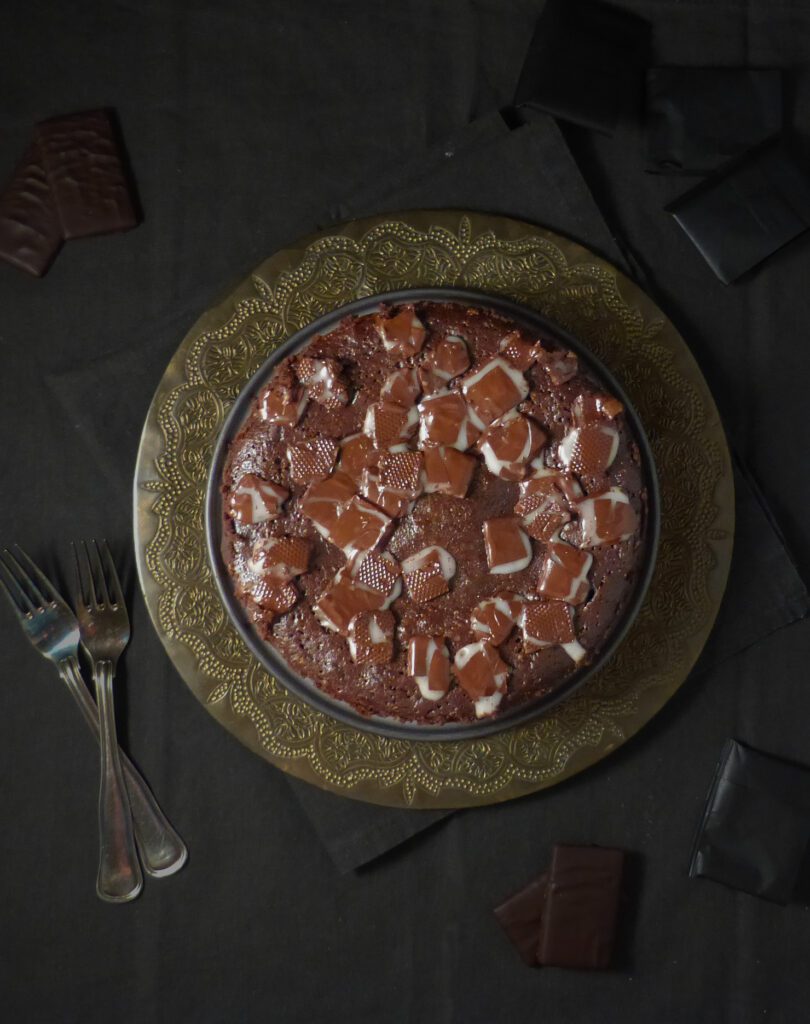 I've made many different kinds of kladdkaka (translated as "sticky cake") since moving to Sweden. Some were fairly firm, almost brownie-like (click the picture to find the recipe):
Others are a little stickier:
… and then they've been like this lemon kladdkaka. Now this is a whole different kind of "sticky". This is molten. Whooshing, lemony sweet goodness. I made a similar chocolate version for The Welsh Rarebit, and I have to say that this supremely runny type of kladdkaka is my family's favourite.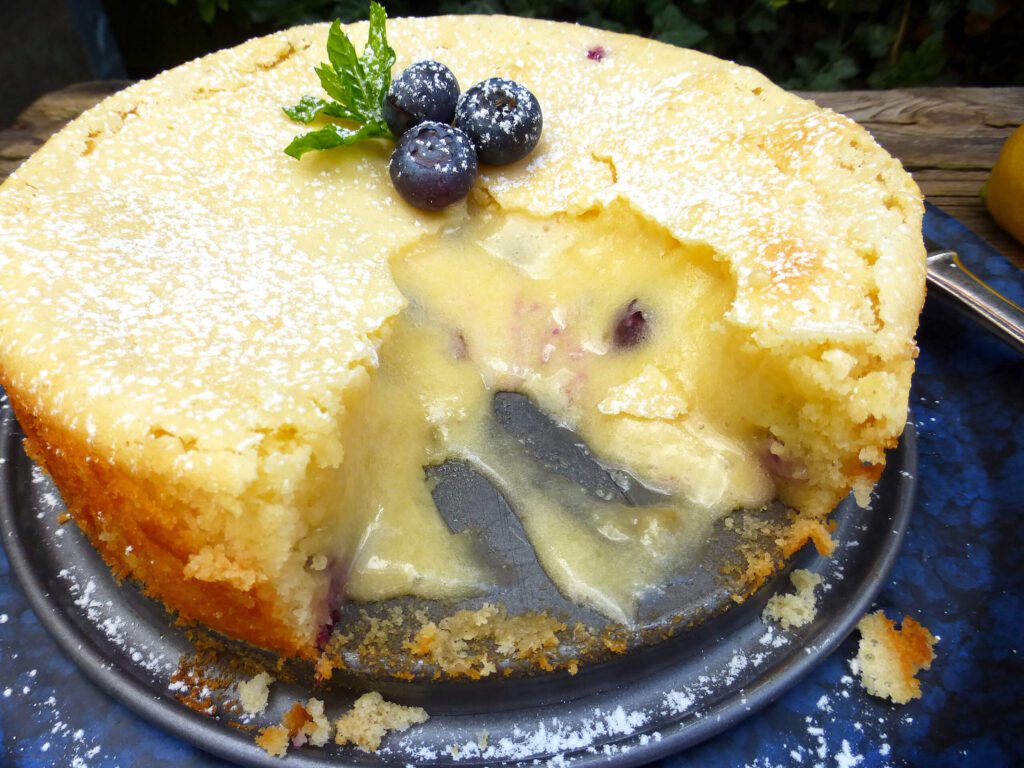 How your kladdkaka turns out is purely down to baking time (and the size of pan you use, naturally). A shorter time in the oven gives you the molten middle; whereas a few more minutes will produce a brownie consistency.
Additionally, the photo above is of my original recipe post on The Culinary Jumble back in 2016. The cake was not sliced until it was completely cold, allowing the cake to hold its form. The one in this recipe was cut when still warm (so, so good when it is still warm), hence the totally gooeyness.
I love that the photos of my white chocolate lemon kladdkaka look like a regular cake. You have no idea what is waiting for you once that knife hits!
White Chocolate and Lemon Kladdkaka with Blueberries
Ingredients
35g

white chocolate

chopped

100g

butter

2

eggs

130g

sugar

2

tablespoons

lemon juice

1

teaspoon

vanilla extract

110g

spelt flour (see notes)

75g

blueberries (couple extra for decoration)

Icing sugar (to sprinkle)

sprig of mint (optional)
Instructions
Pre-heat the oven to 175°C (350°F). Grease and flour a small 18cm (6") springform.

Melt the chocolate and then set to one side.

In a separate bowl, melt the butter and again, set to one side.

In a third larger bowl (or using a mixer) beat the eggs and sugar together. Add the lemon, vanilla, butter and chocolate.

Add the flour together and mix until you have a fairly smooth batter. Stir in the blueberries.

Bake for around 18-27 minutes, depending on how well-cooked you would like it. For a fairly molten middle, the sides should be firm to the touch but the centre will still be a little jiggly when you gently shake the pan. I baked the one in the photos for 23 minutes.

Remove from the oven and allow the cake to cool for a while before removing the outside part of the springform (leave it on the base of the pan and don't attempt to transfer it to another dish, unless you have baked the cake right through and it is firm). Eat slightly warm or wait until the cake has cooled completely. Sprinkle with a little icing sugar before serving. Enjoy!
Notes
I use grams in my recipes as weighing ingredients is the most accurate method. However, if cups are your thing, you can convert my measurements at Cook it Simply.
You can substitute spelt flour for the same amount of regular flour.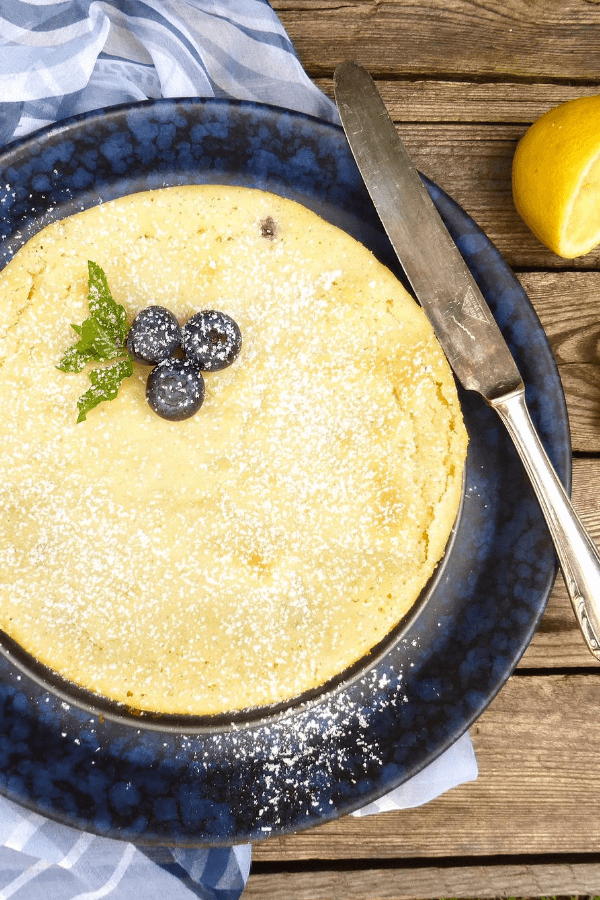 ---
---