Swedish Sausage Stroganoff (a simple weekday meal)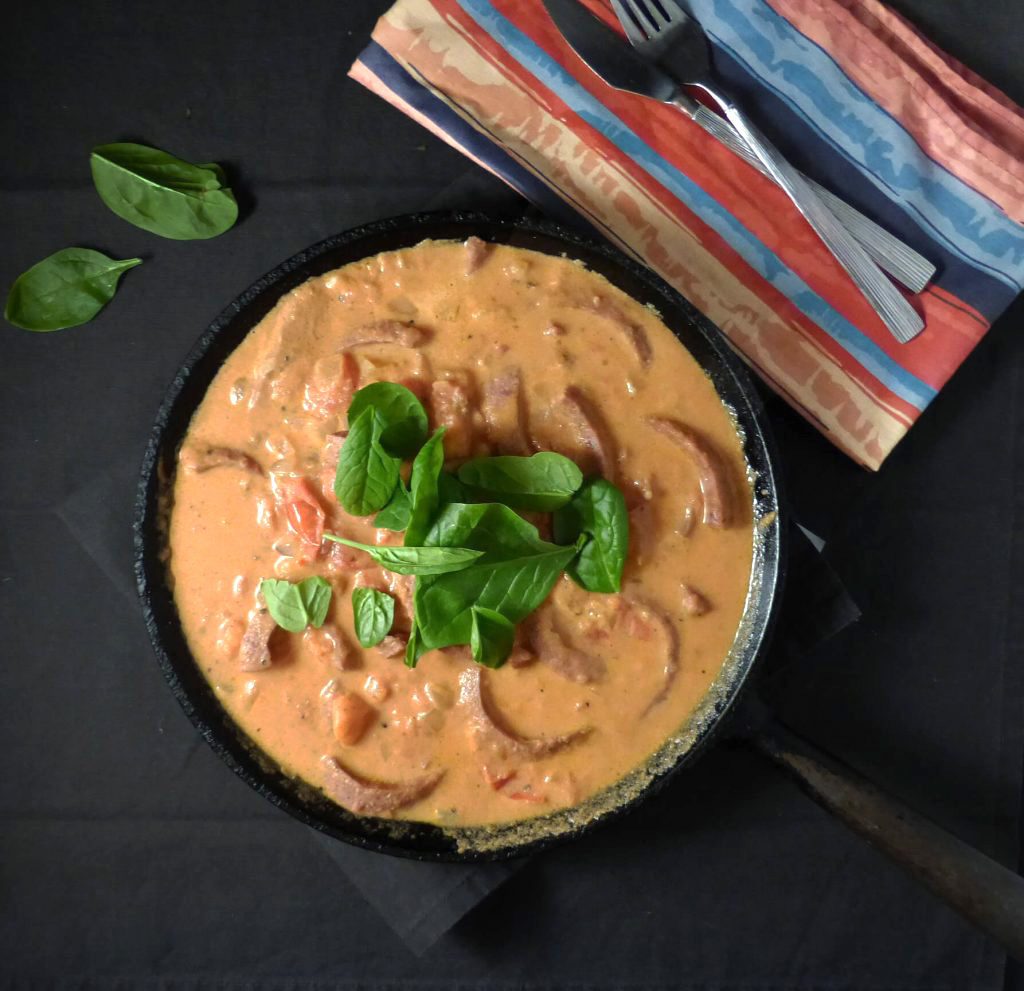 The Swedes love their sausage. I thought us Brits were a bit partial to a banger, but the Scandinavians leave us trailing way behind.
You can find every kind of sausage but two of the most common are varmkorv (the good old basic hot dog) and falukorv. Falukorv has had roots in Swedish history as far back as the 16th century and is used in a variety of different dishes. It also has protected EU status, too.
The first time I ever saw falukorv on my plate, I nearly died. I am not a great sausage lover and to be honest here, it isn't the prettiest of food. However, when roasted up with onions, ketchup and mustard, and served with oodles of mash, it's the bees' knees. Truly.
If you are outside of Sweden, the good news is that you can buy the wonder smoked sausage from ScandiKitchen (UK) and Scandinavian Food Store (US).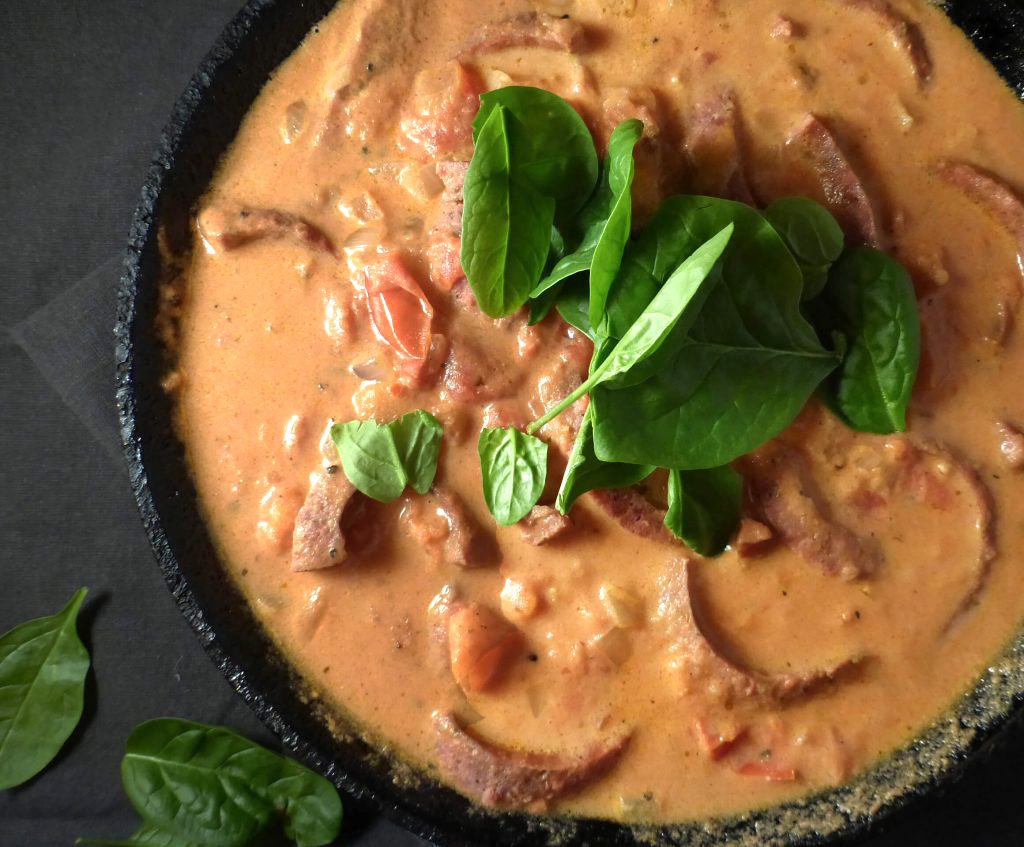 Korv (sausage) stroganoff is one of the ways falukorv is put to good use. The dish is recognised by long slices of sausage smothered in a bright, sometimes almost neon orange, sauce. However, I didn't have falukorv at home, so used a spicy, herby sausage I found in the bargain fridge at my local supermarket (as you do).
It really doesn't matter what sausage you use, really (although my moaning kids might disagree. Such disappointment when this stroganoff had no beloved falukorv).
Although this is called stroganoff, please don't confuse it with beef stroganoff. It's nothing like it. There are no mushrooms, for starters. It's a dish unique in its own right made with every day ingredients. It's also really quick to whip up, too, making it a great weekday meal.
Traditionally, korv stroganoff is served with rice but I served ours with roasted potatoes and carrots (cue more grumbling from my kids), but it also goes amazingly well with mash.
If you like this recipe for Swedish sausage stroganoff, check out my other savoury dishes.
Swedish Sausage Stroganoff (a simple weekday meal)
Ingredients
1

tablespoon

olive oil

1

tablespoon

butter

1

onion

(finely chopped)

2

cloves

garlic

(finely chopped)

300g

(10 oz)

sausages

2

fresh tomatoes

(roughly chopped)

1

tablespoon

ketchup

(or sugar)

1

teaspoon

Worcestershire sauce

1

teaspoon

salt

½

teaspoon

oregano

½

teaspoon

paprika

¼

teaspoon

chilli powder

black pepper

(to taste)

400g

(14oz)

tinned tomatoes

100ml

(3½ fluid oz)

water or stock

100ml

(3½ fluid oz)

tablespoons cream

spinach

for serving - optional
Instructions
Heat the butter and olive oil together in a large frying pan. When ready, add the chopped onion and fry until it softens. Add the garlic and cook for a couple of minutes.

Slice the sausages into long strips and add to the onion and garlic. Fry for around five minutes, just until the sausages have some colour.

Add the fresh tomatoes, ketchup (or sugar), Worcestershire sauce, salt, oregano, paprika, chilli powder and pepper, and cook for a couple of minutes.

Add the tinned tomatoes and stock/water and cook for a further 10 minutes. Finally, add the cream and cook for five more minutes. Serve with rice, roast vegetables or mash. Enjoy!
Notes
Disclaimer: I have converted the ingredients to cups using online converters. I have not made this recipe with imperial measures, and therefore, accuracy when using cups cannot be guaranteed. 
---
---