Cheddar Cheese and Garlic Spelt Bread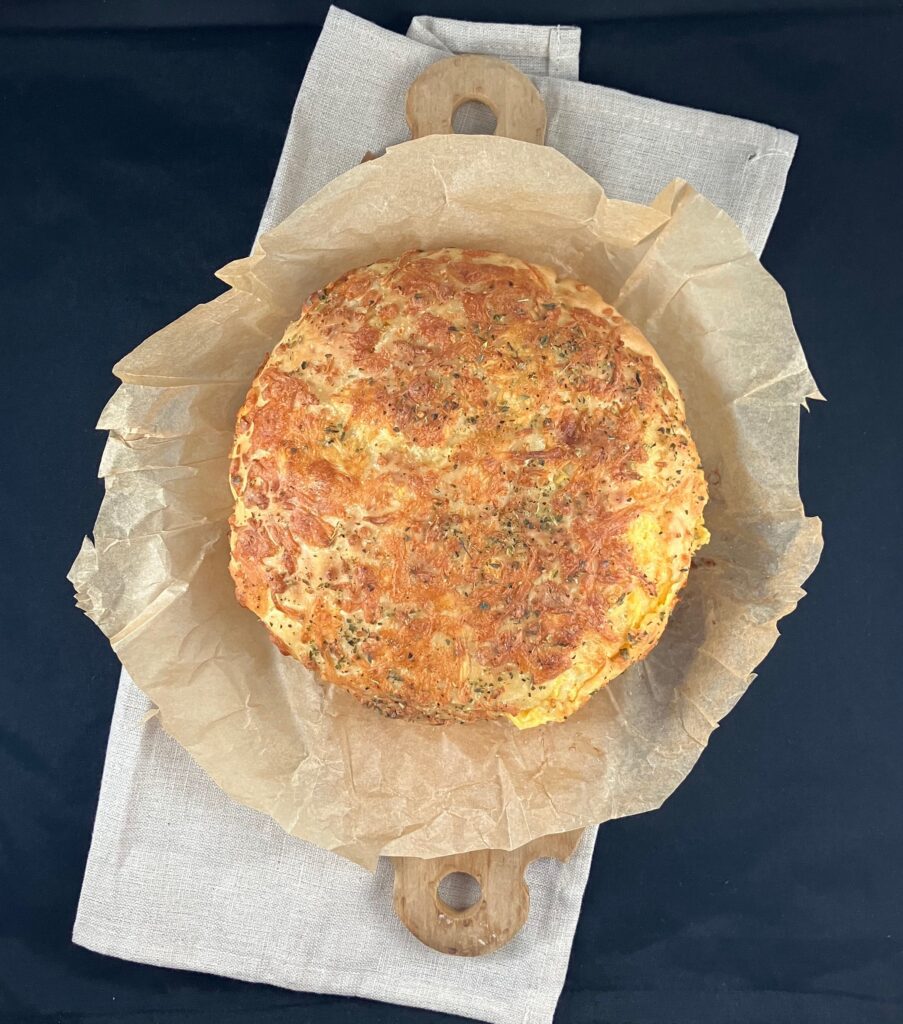 I decided to make this cheddar cheese spelt garlic bread on a whim. My best recipes come from very little planning or thought. In fact, when I overthink things, they are often complete failures.
I was having a creamy pasta for dinner and wanted some bread to go with it. I had plenty of cheese to use up – Lidl had an English week recently, and they've had classic Cheddars on sale, so of course I've stocked up on them while they are available. This cheddar cheese spelt garlic bread was the perfect thing to soak up all the delicious sauce.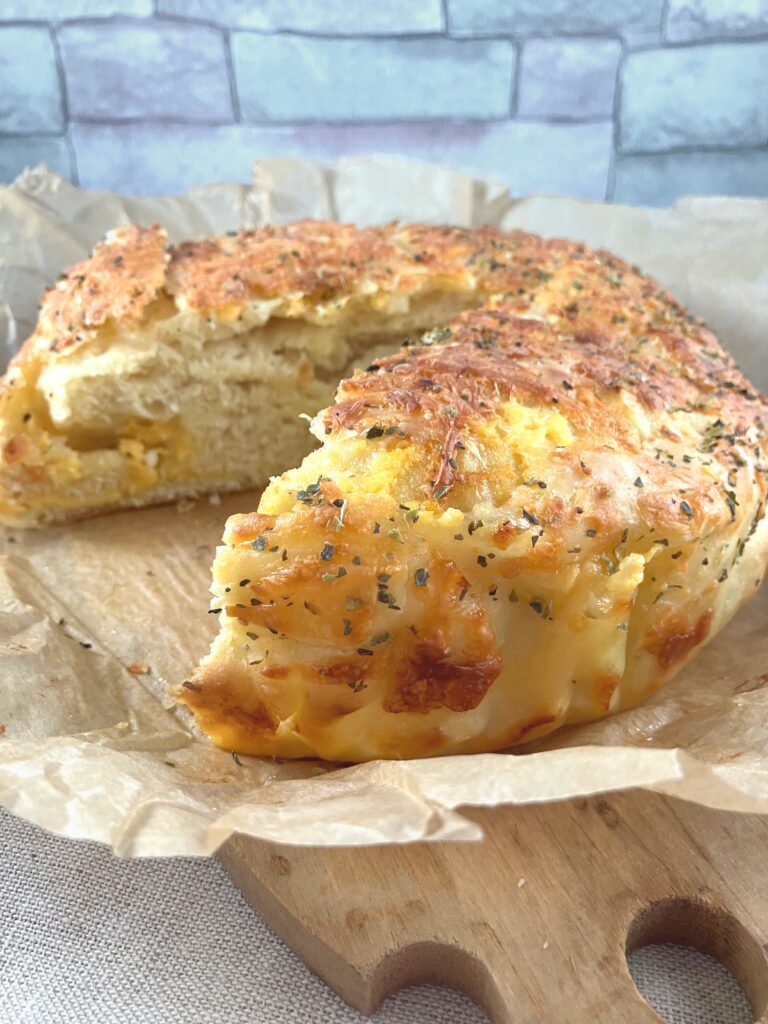 This deliciously doughy bread was so simple to make (like all of my recipes). I used my bread machine to make the dough, but I am pretty sure you could adapt it if you don't have one. The dough was unbelievably soft and bouncy and the strong cheddar flavour shone through.
Every time I make a new bread, it becomes my favorite. I said it about my Monterray Jack focaccia, but I think there's a new king in town. Just look at how tantalizingly doughy it is:
Spelt Cheese and Garlic Bread
Ingredients
Dough (for two loaves):
1

egg

250ml

(1 cup)

milk

50g

(3½ tbs)

butter (chopped)

420g

(2 cups + ½ cup + 2 tbsp)

spelt flour (see note 1)

7g

(1.18 teasp)

dried yeast

½

tablespoon

sugar

1

teaspoon

salt
Filling (for one loaf ONLY):
20g

(1 tbsp + 1 tsp)

butter

10g

(3-4 cloves)

minced garlic (see note 2)

175g

grated strong cheese (I used cheddar)

Mozarella (sprinkling)

1

teaspoon

sea salt

1

teaspoon

oregano
Instructions
Please note: the ingredients will make two loaves of bread (see note 3)
Add all of the ingredients (wet then dry) for the dough into your bread maker. Set the machine to make the dough only.

Remove the ready dough from the machine and divide into two.

Take one piece, and turn it out on a floured surface. Roll the dough out into a rough circle of around 30cm in diameter, and 1cm thick.

Warm the butter in the microwave until it is just melted and stir in the garlic. Brush it over the dough, covering the whole surface.

Place the cheese in the middle of the dough circle leaving a good, wide edge all the way around. Turn over the edges, all the way around, and then repeat, until all the cheese is covered.

Turn the dough over, with the smooth surface on the top and roll it out very carefully until it is around 18cm in diameter and 2-3cm thick.

Place in the prepared pan and sprinkle with some Mozzarella, the salt and oregano. Cover with a tea towel and leave for around 30 minutes to rest.

Pre-heat the oven to 180℃ fan assisted (200℃ / 400℉) and line a 20cm (8") tin with baking paper.

Bake in the middle of the oven for around 20 minutes, just until the top is a lovely golden brown. Leave to cool in the pan, and then serve warm with your favorite dinner. Enjoy!
Notes
Please note: I used a bread machine to make my dough. Although I see no reason why you can't make the dough by hand, I am unable to guarantee the result.
Disclaimer: I have converted the ingredients to cups using online converters. I have not made this recipe with imperial measures, and therefore, accuracy when using cups cannot be guaranteed.
If you'd like to use regular flour, just do a straight swap
I used shop bought ready minced garlic. However, if you would like to prepare your own, you would need 3-4 cloves, based on personal preference
The ingredients will make two loaves of bread. I usually only make one and freeze the remaining dough for another time. If you would like to make two loaves in one go, just repeat the instructions for both loaves.
---
---