Lemon and Lime Cupcakes with a Fresh Lemon Frosting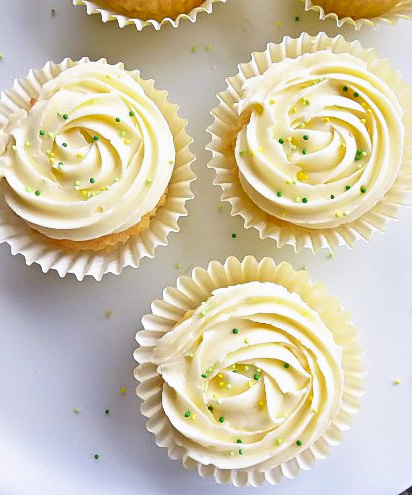 This recipe for Lemon and Lime Cupcakes with a Fresh Lemon Frosting was first published in 2015 on The Culinary Jumble. The recipe has been updated to include spelt flour.
Again, the sunny, warmer weather is responsible for my baking choices, and has inspired these lemon and lime cupcakes.
The delicate pound cake-like sponges have a definite tang of lime, while the rich buttercream frosting has a hint of lemon, leading to a total citrus explosion on the taste-buds.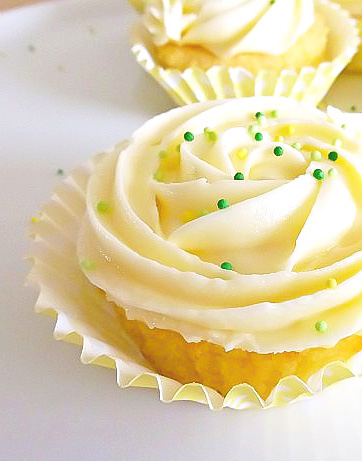 The measurements are enough to make, and frost, eight cupcakes. I was a little generous with my icing, and only managed to decorate six; however, if you went a little easier, you would easily have adequate for all eight.
If you like fruity cakes, check out my healthier strawberry spelt muffins.
Lemon and Lime Cupcakes with a Fresh Lemon Frosting
Ingredients
Cupcakes:
75g

butter (softened)

75g

sugar

1

egg

95g

plain (all-purpose flour) - see notes

1½

tablespoons

of fresh lime juice

1

teaspoon

baking powder

½

tablespoon

milk
Frosting:
56g

g

butter (softened)

1

tablespoon

fresh lemon juice

140g

icing (confectioners' sugar)

sprinkles or decoration (optional)
Instructions
Pre-heat the oven to 160°C (320°F).

Cream the butter and sugar until smooth. Beat in the egg.

Sift the flour and baking powder, and fold into the batter. Add the lime juice, followed by the milk, stirring until well combined.

Fill eight cupcake cases about half way, then place in the middle of the oven, and bake for around 15-17 minutes. They will be ready when an inserted skewer comes out clean.

Leave on a wire rack to cool.

Prepare the frosting by beating the butter until soft and smooth. Sift the icing sugar and beat into the butter until light and fluffy. Add the lemon juice and combine well. If the consistency is too runny, add more icing sugar; if it is too thick, add a touch of milk.

Prepare a piping bag and frost to your requirements. Or, alternatively, just spread the icing over the tops. Decorate with sprinkles if you fancy it. Enjoy!
Notes
This recipe first appeared on The Culinary Jumble (my previous blog) in 2015 and the cupcakes were made using regular flour.  For the sake of transparency, I have not made these particular cakes with spelt flour. However, I have straight swapped spelt flour for regular flour in everything I've made for the past two years, without any noticeable differences, so I believe that this would also be the case for this particular recipe.
---
---