Individual Upside Down Cottage Cheese Chocolate Cheesecakes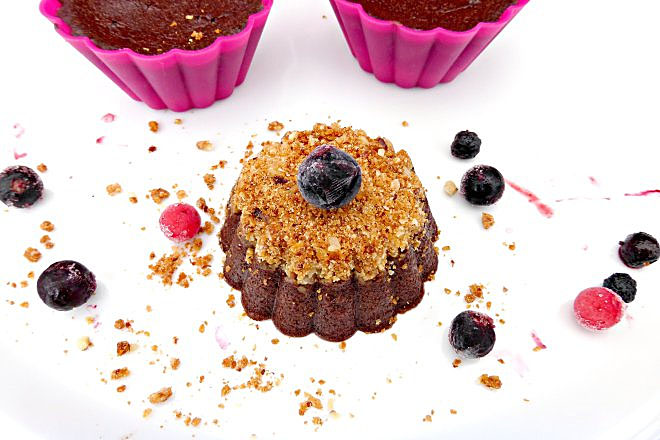 These Individual Upside Down Cottage Cheese Chocolate Cheesecakes were originally published in 2015 and featured on my former blog, The Culinary Jumble. The recipe and images remain unchanged.
Cheesecake. Love it. But what if I told you that you could still have your cheesecake but without tons of extra calories? Well, you can! Using a low-fat cottage cheese (bear with me) instead of Philadelphia and having a base with virtually no butter and sugar, makes these chocolaty beauts hard to refuse! They are even healthier if you omit the base!
Hang on. Hold up a minute. Cottage cheese? Yep, I sense your reluctance. Yep, I was there, too. But, with a pot of cottage cheese to use up fast, I turned to Pinterest and found a recipe for cheesecake. A fair bit of intense tweaking to reduce the sugar and fat and this is the end result, I have to say, these cottage cheese chocolate cheesecakes are one of my finest moments culinary wise, to date.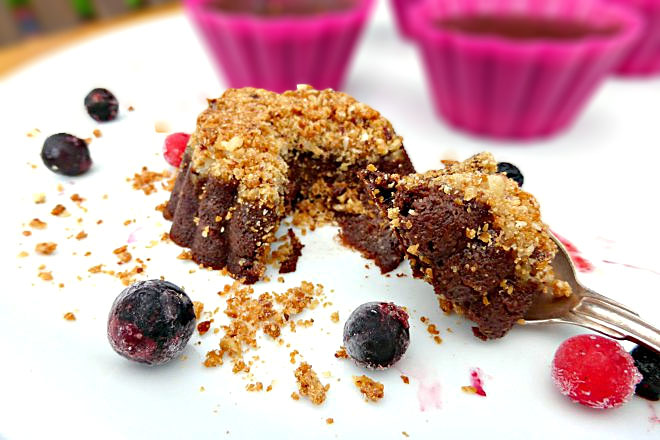 They are so amazingly good. My eldest son thought they tasted like kladdkaka (they do a little, but in the hope of being transparent, they can't possibly compare with the über rich Swedish treat), and they are certainly not a traditional cheesecake texture – they are firmer and richer. My kids still don't know cottage cheese is the secret. Shh….don't tell them! Since making these, I have experimented and come up with other versions, so watch this space!
These upside down cottage cheese chocolate cheesecakes are pretty enough to be served when you have guests and can be kept in the freezer for several days after being made. The measurements below make nine really nice sized individual cheesecakes.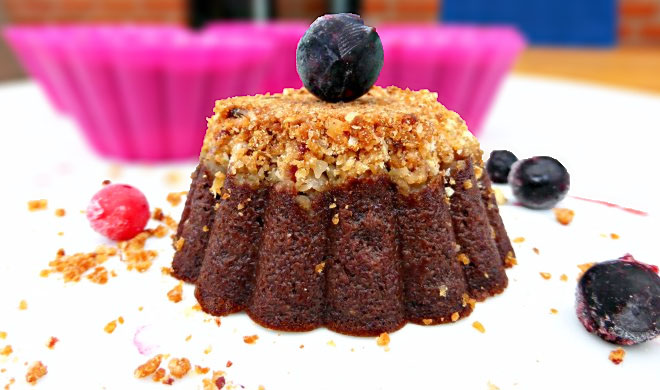 Individual Upside Down Cottage Cheese Chocolate Cheesecakes
Ingredients
25g

hazelnuts

4-5

cookies (or any other small cookies/biscuits)

1

egg

200g

cottage cheese

100g

icing (confectioners' sugar)

25g

cocoa

1

tablespoon

flour

1

teaspoon

vanilla sugar (or extract)

3

tablespoons

brewed fresh coffee (cooled)
Instructions
Pre-heat oven to 150°C (300°F).

Blitz the nuts and cookies in a food processor until they resemble fine crumbs. Set aside.

Rinse the processor and then add the cottage cheese, icing sugar, cocoa, flour, vanilla sugar, egg and fresh coffee and mix until combined.

Prepare a muffin tray with paper cases or use silicone moulds (I used the latter - much easier to remove the cheesecakes) and place around one or two teaspoons of cookie/nut mixture in the bottom (you will probably have some left over, so pop it in an airtight container and use next time you make the cheesecakes, or on top of ice-cream).

Pour the cheesecake batter over the top and pop into the fridge for a bit. Enjoy!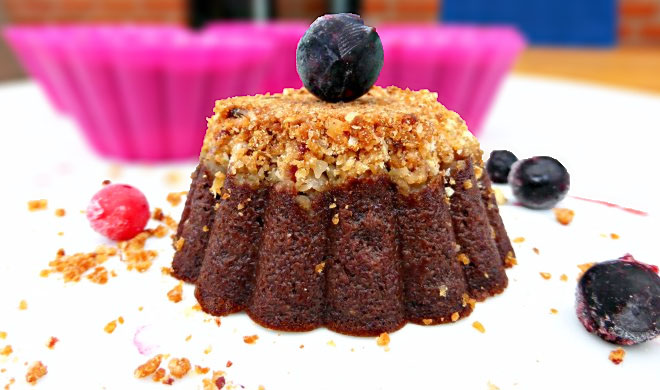 ---
---